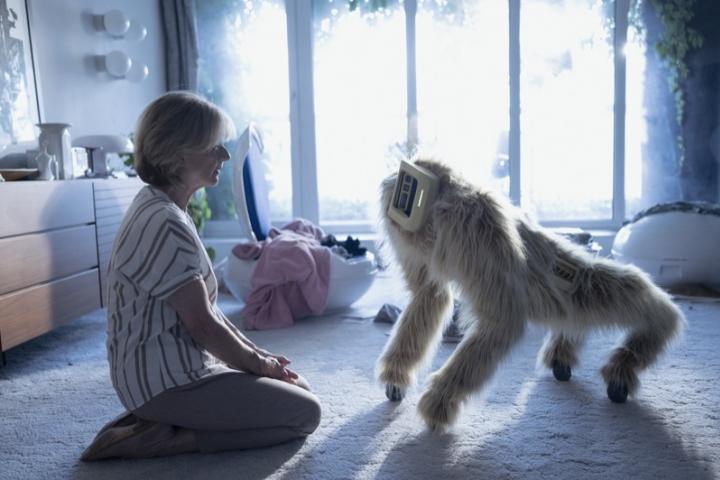 Spot from Boston Dynamics is a robodog of which the Faculty of Electrical Engineering of CTU is duly proud. The mobile and commercially marketed end-user robot is also the star of the feature film 'Ordinary Failures' since September 2022. Although he is unrecognisable on screen due to his disguise, this does not detract from the unique connection between the cyber world and the world of filmmaking.
The preparation, programming and appearance of the Spot was taken care of by Ing. Bedřich Himmel from Department of Cybernetics at FEL. The filmmakers needed Spot to be dressed in a fur coat and to look even more like a dog. "That's what was unique about it," said Bedřich Himmel. "I'm sure there are hundreds of videos on YouTube where Spot is the protagonist, but to have him star in a film and in a suit, that's new."
A video of Bedrich Himmel talking about filming with Spot can be found here
To have Robopes in a fur coat presented a challenge. Himmel said it was difficult to keep him cool in the fur he was wearing, and it was also difficult to handle him. "He has depth cameras on the sides to help him sense the surrounding terrain so he doesn't bump into or step on anything." For some shots, the cameras had to be turned off, so Spot just mechanically listened to the operator's instructions. Fortunately, everything worked out perfectly and nothing broke.
Spot enjoyed one day of filming, when his movements and gaits were captured. Other shots, such as someone carrying him, already feature a 3D printed model of him. You can check out more interesting facts about the film on the official Facebook and Instagram pages.
About the Ordinary Failures film
Ordinary Failures is a psychological drama by Cristina Grosan with elements of science fiction and dystopia. The main theme of the story is the inability of the three heroines to cope with everyday life. Hana, a recent widow, does not allow herself to grieve, lest she could collapse completely. The teenager Tereza makes herself out to be something she is not, just to please her parents. And Silva is in the throes of a maternal crisis.
A unique concept of struggling with ordinary failures against the backdrop of dystopian chaos that is taking place out there. Only a crisis situation brings the heroines together; at the moment when their city is falling apart. Ironically, the growing panic helps the protagonists come to terms with their lives. The original atmosphere of a town hit by a strange natural phenomenon causing random explosions is enhanced by thoughtful details, such as Hannah's robodog Spot. The film, starring Tatjana Medvecka, was screened at the Venice International Film Festival, which is quite exceptional for Czech films.