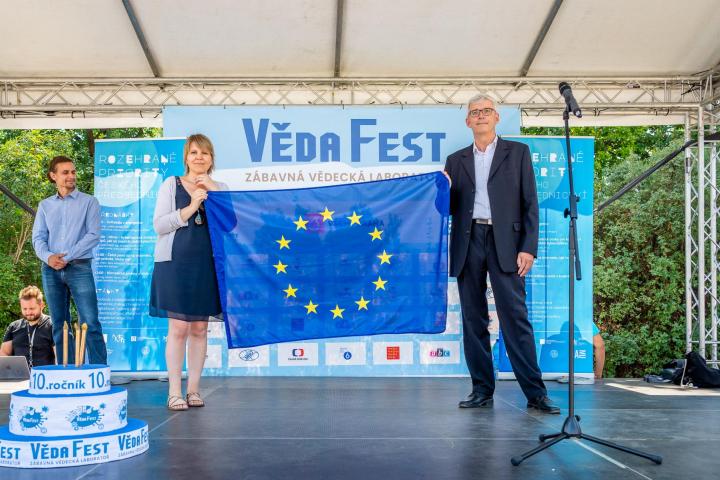 Over 15,000 people visited the Dejvice campus on Wednesday 22 June, where the 10th edition of the traditional Vědafest festival was held together with the event "Priorities of the Czech Presidency". Charles University, the Czech Technical University, the Institute of Chemical Technology, the Czech University of Life Sciences, the Academy of Performing Arts and the Academy of Arts Architecture and Design in Prague opened exhibitions for visitors, presenting selected topics of the Czech Presidency of the EU Council, as it commences 1 July and ends on 31 December 2022.
Visitors ranging from schoolchildren, students to general public tried out experiments, interactive games and quizzes on digitalisation, cyber security, energy security, climate change and media freedom and responsibility at open-air stands. There was also an exhibition of the Office of the Government of the Czech Republic entitled Europe as a mission.
Over 300 people attended popularization lectures by renowned experts at the CTU, which focused on softskills in the energy sector, cybercrime, the power of misinformation and climate change in relation to water in the landscape.
The programme also included a symbolic handover of the presidential baton in the field of higher education from the scientific attaché of the Embassy of the French Republic in the Czech Republic, Véronique Debord-Lazaro, to the President of the Council of Public Universities, Professor Milan Pospíšil.
"I wish you all the best for the difficult period that awaits you during the Czech Presidency. I am confident that together we will be strong enough to move forward on all the key challenges facing Europe, including those related to universities and research. We need to increase the level of synergy between education, research, innovation and service to society. To strengthen cooperation between Europe and the rest of the world, and to develop European university alliances and research infrastructures," Debord-Lazaro said during her keynote speech.
"On behalf of the Czech universities, I can promise that we will do our utmost to solve these problems, not only during the Czech Presidency, but also in the years to come," said Professor Pospíšil.
The event "Commenced Czech Presidency Priorities" was held thanks to the support of the Ministry of Education, Youth and Sports of the Czech Republic within the framework of the project "Communicating the Priorities and Themes of the Czech EU Presidency with a Focus on Universities and Education".
In addition to the programme on the Czech Presidency, visitors had access to other exhibitions dedicated to the popularisation of scientific and educational topics. Fans of technical sciences enjoyed student formula cars, a virtual projection of a nuclear power plant, robotics, radiation and technology in medicine. Those interested in chemistry enjoyed it in all its forms. From materials, glass, water, fertilizers to food and its analysis or the possibilities of alternative food sources. Those interested in the humanities were not left out as well. They could learn about extinct scripts and alphabets of antiquity or read ancient cookbooks. Medical disciplines in conjunction with pharmaceutical disciplines found many fans, whether it was first aid, proper teeth cleaning, natural sources of medicines, physiotherapy procedures or even demonstrations of surgical suturing. Visitors were entertained by the skills of assistance dogs, cognitive tests, the world of insects, the world of water and demonstrations of the work of criminologists