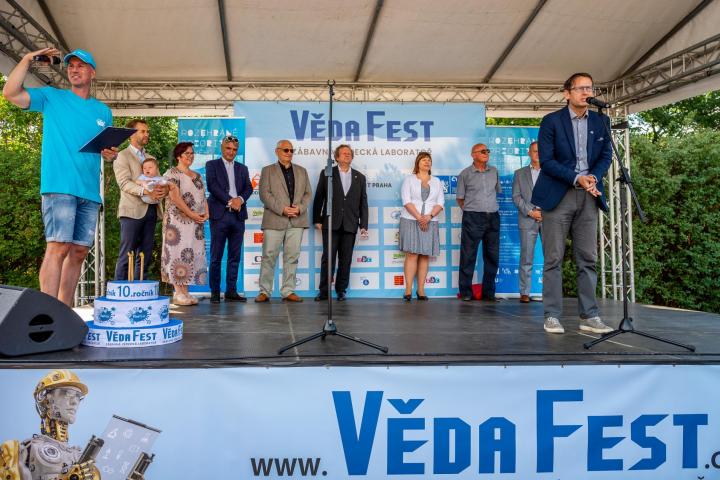 Just a week ago, on Wednesday 22 June, 101 exhibitions filled the green lawn at Vítězný náměstí square in Dejvice with science literally from A to Z. Exhibitors from universities, academic institutes, leisure institutions and companies presented their work and research in a playful way. The large and entertaining open-air popular science laboratory attracted a huge number of visitors, approaching sixteen thousand.
VědaFest was once again open free of charge to all curious visitors of all ages with the aim of presenting science in a playful and useful way. Fans of technical sciences enjoyed student formula cars, a virtual projection of a nuclear power plant, robotics, radiation and technology in medicine. Those interested in chemistry got to experience it in all its forms. From materials, glass, water, fertilizers to food and its analysis or the possibilities of alternative food sources. Those interested in the humanities were not left out. They could learn about extinct scripts and alphabets of antiquity or read ancient cookbooks. Medical disciplines in conjunction with pharmaceutical disciplines found many fans, whether it was first aid, proper teeth cleaning, natural sources of medicines, physiotherapy procedures or even demonstrations of surgical stiching. Visitors were impressed by the skills of assistance dogs, cognitive tests, the world of insects, the world of water or demonstrations of the work of criminologists.
"VědaFest celebrated its tenth birthday this year, and it was very dignified indeed. The attendance was huge and the mood even better. Lovely weather and the enthusiasm of all the exhibitors and visitors helped the overall atmosphere," say the event organisers.
This year visitors did not miss the popular quiz "Chytrá hlava", which aroused great interest among young and old alike. Those who answered the alphabet of questions from A to Z correctly could be drawn on the spot and win a 3D printer, a tailor-made day at the Prague Zoo, a Koh-i-noor package or a chemical or engineering package.
The tenth anniversary edition of VědaFest also provided a space for the presentation of topics with which Czech universities will support the upcoming Czech Presidency of the Council of the European Union in the areas of energy, cybersecurity and digitalization, climate change and media freedom, which was opened by the scientific attaché of the French Embassy. The exhibitions dedicated to these priorities were complemented by thematic lectures attended by more than 300 people.
The full programme of the past ScienceFest can be found at  www.vedafest.cz
VědaFest is a joint project of the Czech Technical University in Prague, the House of Children and Youth of the capital city of Prague, the Institute of Chemical Technology in Prague, since 2011. The event is supported by the Prague 6 municipality.