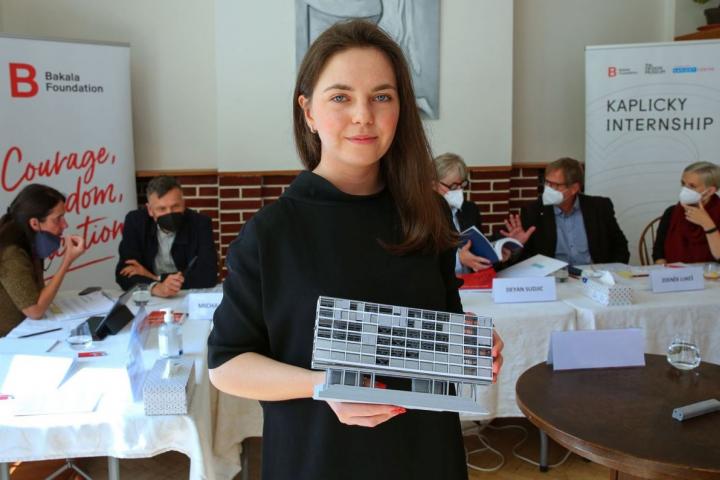 The Kaplicky Internship 2021 architecture competition has published its results. The jury was won by Valerie Heyworth, a graduate of the Faculty of Architecture of the Czech Technical University, with her project Czech House in Taiwan. The winner will spend three months on a fully-funded internship at the leading London studio Amanda Levete Architects.
"The Czech House in Taiwan is a project I worked on as part of my master's thesis in the studio of Ondřej Císler and Lenka Milerová," says Valerie Heyworth. "We decided to work on this topic, among other things, as a response to the somewhat ambivalent attitude of the Czech Republic towards Taiwan and its relationship with the People's Republic of China. I see Czech-Taiwanese relations as very important and promising. Building a national cultural centre would support this partnership."
Valerie Heyworth proposed a Czech cultural centre and consulate general in Taipei. The design includes a multifunctional ballroom, gallery, Czech pub, co-working space, visa department, consular department, apartments, consul's residence with a representative space and a public garden. The initial intention of the design was to create a public space evoking the Czech Republic. Due to the climatic unsuitability of a classical square, the author was inspired by Prague's hilly landscape and created a public park on the site that would also serve as a shortcut between two streets. In the project she tried to emphasize the contrast between the different parts of the building so that each would have its own specific atmosphere.
"I was pleasantly surprised by the high standard of the projects presented, it was really not easy to choose one of the best," says Alice Dietsch, director of London-based studio Amanda Levete Architects, where this year's winner is doing a three-month internship. "Valerie won us over with her presentation, which showed, among other things, a meticulous attention to detail, a broader understanding and a passion for the subject. What I personally like about her project is that it addresses themes that are also key for us at Amanda Levete Architects, such as sustainability, local context and social issues." 
This year, the expert jury consisting of Michal Kohout, Regina Loukotová, Zdeněk Lukeš, Petra Ross, Deyan Sudjic and Alice Dietsch choose from six finalists. The strongest representation among them were students of the Faculty of Architecture of the Czech Technical University, only one of the finalists was a student of UMPRUM (Acadeny of Arts Architecture & Design in Prague). This year's edition was also exceptional for its strong representation of women (5 out of 6 in the final round).
So far, six talented young architects from Czech universities have completed internships in leading London studios, last year Vojtěch Rudorfer won and the year before Ondřej Pokoj, both from the Faculty of Architecture of the Czech Technical University.
More information about the proposal can be found here.
Bakala Foundation website here.