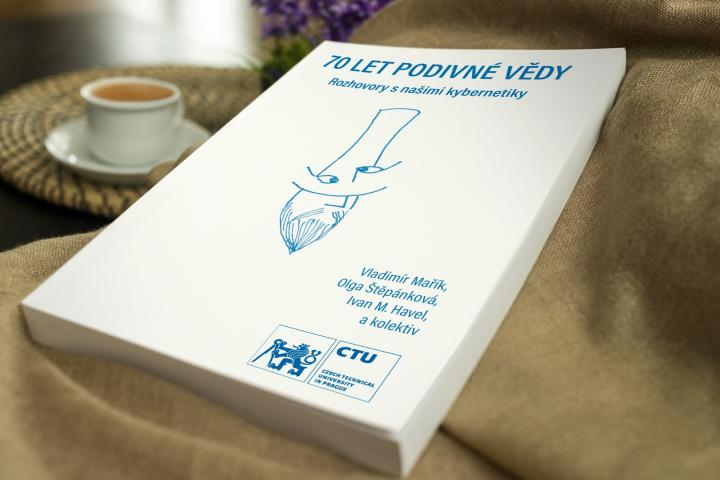 Prof. Olga Štěpánková and prof. Vladimír Mařík from the Czech Institute of Informatics, Robotics and Cybernetics of the Czech Technical University (CTU - CIIRC) met with Ivan M. Havel in the autumn of 2019 to prepare a publication entitled "70 Years of Strange Science. Interviews with our cybernetics ", which includes contributions from 24 authors. The book was published by Česká technika - the CTU publishing house as a commemoration of the anniversary of the first edition of Wiener's work "Cybernetics or the Control and Communication in the Animal and the Machine" in 1948.
They recall the collaboration with Ivan M. Havel, the scientist and brother of President Václav Havel, as follows: 
The book was created somewhat hesitantly, because many invited authors took their time with their contributions. During one of the meetings over the book in progress, we noticed playful line drawings of "granddads" on Ivan's desk. At that moment, we realized that they were the ones to offer a reminder that the book did not just want to remember, but above all to celebrate the creative imagination and playfulness, which is an integral part of scientific work. We asked Ivan if he would choose some of his pictures as illustrations for the book. It was a lucky move - Ivan agreed with the idea and his energy seemed to ignite a spark of enthusiasm in all - the book was then completed in three months. It was a very joyful collaboration. A similar experience was represented for us by a number of previous events organized by the Faculty of Electrical Engineering, the Czech Institute of Informatics, Robotics and Cybernetics, the Czech Society for Cybernetics and Informatics or AICzechia. 
Ivan M. Havel was a noted scientist with international outreach who, since the 1970s, has helped to shape the Czech community of theoretical robotics and cybernetics and to connect it to Europe and the world. His annual pre-Christmas lectures in Emmaus, which started the festive Christmas season for all of us, had a special atmosphere. His excellent monograph "Robotics - Introduction to the Theory of Cognitive Robots" published in 1980 significantly influenced the next generation of technicians. Not to mention his participation in the groundbreaking CEPES-UNESCO symposium in October 1989 and his significant contribution to the organization of a large summer school on artificial intelligence at CTU in 1992. 
He was always willing and happy to take part in every interesting activity, for example, he made a significant contribution to two parts of the edited monograph "Artificial Intelligence", participated in panel discussions, radio programs, and wrote essays tirelessly. He was the author who kept his word, and especially delivered the manuscripts on time (there aren't many like that anymore!). He definitely and significantly contributed to today's strong connection of the Czech artificial intelligence community to the European research area. Despite being able to live in political prominence, he remained a researcher with all his heart and soul. A diligent and humble friend and companion, open to any discussion, ready to listen with all his might to support what interested him and what he considered right. AICzechia supported his views and attitudes from the very beginning, he was a proactive founding member. 
Oddly relevant is the motto at the beginning of his contribution to the last jointly published book, which seems to anticipate the state of society during the Covid-19 pandemic, the existence of which, of course, had no idea at the time of the book's publication. "Even in the coming millennia, the personal contact of people separated by space will always be slower and more strenuous than information contact. Cyberculture will bring more or less unsuspected changes to human behavior, interaction and communication, grouping into communities, general awareness, and even political life. This is already happening, for example through social networks. Hence a challenge for new thought, not only for computer scientists, but also for sociologists, social psychologists, anthropologists, political scientists and philosophers. " 
The importance of Ivan M. Havel's personality for Czech science, especially robotics and artificial intelligence, is immense and will certainly be appreciated in the future. Above all, however, we will miss a friend, a deep-thinking man with a big M. Let us therefore dedicate a moment to our memories. 
Olga Štěpánková a Vladimír Mařík 
Recalled on behalf of CTU CIIRC, the Czech Society for Cybernetics and Informatics and AICzechia
The book "70 let podivné vědy. Rozhovory s našimi kybernetiky" was published in december 2019.