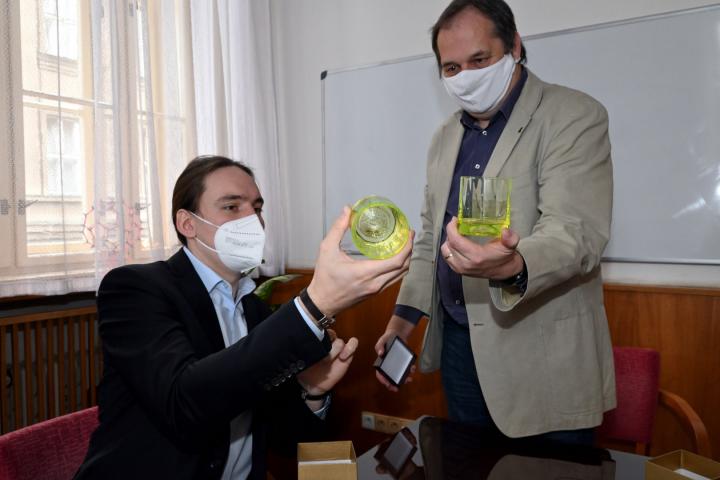 Kristýna Gincelová from the Department of Dosimetry and Ionizing Radiation, Pavel Vrbka from the Department of Nuclear Reactors and Jan Mazáč from the Department of Mathematics are the authors of the best diploma theses for 2020 of the Faculty of Nuclear Sciences and Physical Engineering CTU in Prague.
Professor Igor Jex, Dean of the FNSPE, has been rewarding the three best diploma theses since 2015, which are proposed by the head of departments or the chairman of the commission for state final examinations. The selected works are then assessed and their order is decided by a commission which, in addition to the professional level, also evaluates the stylistic component of the submitted work. In addition to the diploma, the holders will also receive a financial reward of 10, 15 and 25 thousand crowns.
The first place was won by Ing. Jan Mazáč and a work called Delone sets closed under affine mappings. The second place belongs to Ing. Pavel Vrbek for his work Behavior of fuel coverage during high temperature oxidation in an environment containing air (Fuel Cladding High Temperature Oxidation in Air Containing Atmosphere) and the third to  Ing. Kristýna Gincelová with a diploma thesis called Photon and neutron field of a spent nuclear fuel storage facility Temelín with OS CASTOR 1000/19.
Usually, the award is received at a representative ball of the faculty called the All-Nuclear Fusion. However, due to the epidemiological situation, this year the handover  took place in the dean´s office on Monday, 11 January, where Jan Mazáč came to receive it.
His diploma thesis deals with a special class of point sets, which were originally created to describe the arrangement of atoms in so-called quasicrystals, ie substances similar to crystals. In contrast, however, the atoms in quasicrystals are arranged in more complex structures than in lattices, as is the case with crystals. In his work, Jan Mazáč elaborates a theory on how to construct such sets when a linear representation is initially given against which the resulting set is to be closed. He has already presented his work at foreign conferences and is now accepted for publication in the journal Linear Algebra and its Applications. "It's actually a continuation of a bachelor's degree, the result of three years of work. Now I focus primarily on quantum physics, but there are still some problems in the field of quasicrystals, which with my former trainer prof. Zuzana Masáková and with prof. We solve Edita Pelantová, "says Jan Mazáč.