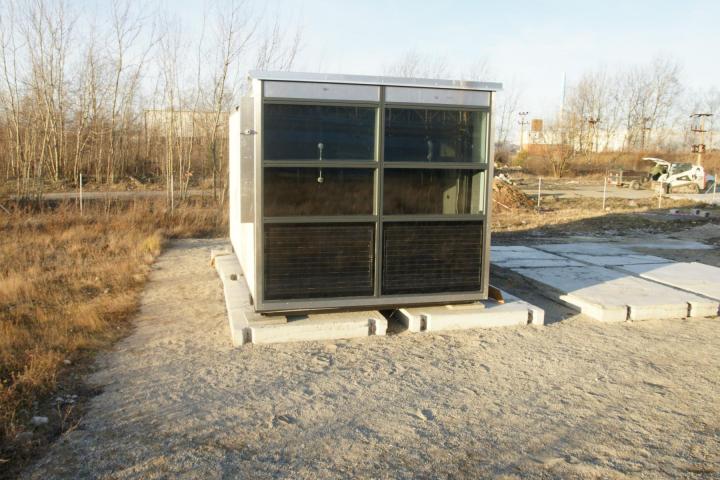 Since 2015, the University Center for Energy Efficient Buildings of the Czech Technical University (UCEEB) together with its industrial partner SKANSKA, a.s (now Wieden, s.r.o.) has been researching possibilities of integrating energy modules with curtain walls in buildings. The goal of the energetically active curtains walls project was to integrate a hybrid photovoltaic-thermal (PVT) collector with an optically selective reflective grid. In the ongoing project of an autonomous façade module, UCEEB focused on the use of a Peltier cooler in combination with photovoltaics integrated into the CW together with battery storage.
 The hybrid photovoltaic-thermal (PVT) collector is used for local combined production of electricity and heat. It brings about 35% higher savings than in the case of a combination of existing technologies (photothermal collectors, photovoltaic modules).
The optically selective reflective grid serves to provide diffuse lighting, solar gains in winter and the reflection of sunlight in summer to eliminate the heat load on the interior. Overall, its application leads to a reduction in energy consumption for heating and cooling by up to 25%, depending on the percentage of glazing with the grid.
For the autonomous façade module, UCEEB experts designed and experimentally tested various Peltier heatsink solutions based on a CFD simulation, as well as a flat-battery facade photovoltaic system to drive the heatsink, fans, blinds and interior lighting.
The autonomous façade module with prefabricated integration of the mentioned elements has the potential to speed up construction, increase the autonomy of the state of the internal environment on the central technical system and thus improve user comfort in office buildings. The result of both projects are prototypes of a prefabricated lightweight curtain wall measuring approximately 3 x 3 m, equipped with energy elements, which are tested on a UCEEB test cell built for long-term testing and monitoring of concept functionality. Both concepts are protected as industrial designs.