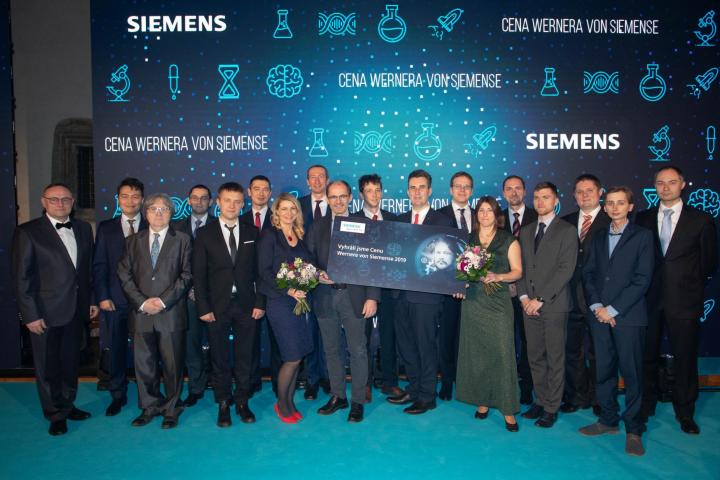 The 22nd annual Werner von Siemens Prize was awarded on 5 March. Czech branch of Siemens appreciates the work and projects in the field of technical and natural sciences in four categories: the most important result of basic research, the best diploma thesis, the best dissertation and the best pedagogue. Together with students, their work leaders also receive rewards. This year, special awards were given for overcoming obstacles in study, for the excellent quality of female scientific work and for the graduation work on Industry 4.0.
The best thesis of the 22nd year of the competition was presented by Ing. Denys Rozumnyi from the Faculty of Electrical Engineering of the Czech Technical University in Prague, tutored by Ing. Jiří Matas. He won the award for his work entitled "Long-term Tracker of All Speeds Using Blurring". In his work, Denys Rozumnyi dealt with finding and tracking objects moving at high speeds, such as balls in various sports disciplines. The author of the award-winning diploma thesis showed that these objects have specific properties that enable them to find their exact trajectory and speed and also to determine their appearance only from video recording.
The Werner von Siemens prizes were first awarded in 1998. Since then, Siemens has paid 12.5 million CZK in rewards and 389 winners have received the award. The twenty-second year of the competition evaluated a record number of 833 entries. The competition is organized by Siemens together with important representatives of universities and the Academy of Sciences of the Czech Republic, who are also guarantors of individual categories and participate in the evaluation of the best works. The awards for the 22nd year were presented by the Ministry of Education, Youth and Sports, the Ministry of Industry and Trade and the Prime Minister of the Czech Republic Andrej Babiš.
The Werner von Siemens Prize is one of the most important independent initiatives of its kind in the Czech Republic.