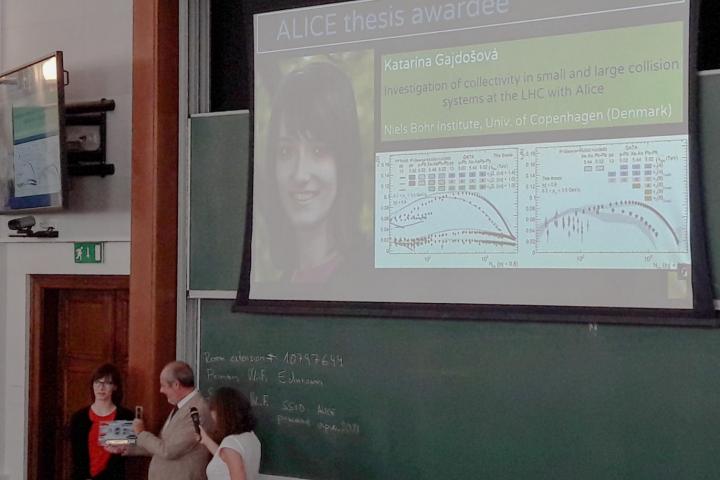 Katarína Křížková Gajdošová from the Department of Physics of the Faculty of Nuclear Sciences and Physical Engineering of the Czech Technical University in Prague, who is also involved in the project of the Center of Advanced Applied Natural Sciences (CAAS), has won the Best Thesis Award of the ALICE experiment.
The award winners are selected by a seven-member international jury of scientists participating in the research of the Large Ion Collider Experiment (ALICE) at the European Center for Particle and Nuclear Physics at CERN near Geneva, Switzerland. It is one of the largest experiments in the world to research the physics of the microworld. It explores the quark-gluon plasma, which was formed shortly after the Big Bang, from which the entire universe gradually evolved. In total, over a thousand physicists, technicians and engineers participate in the project, together with more than two hundred PhD students from 105 institutions from 30 countries.
In 2019, a total of 70 doctoral theses were prepared for the ALICE experiment and the jury led by prof. Yves Schutz of SUBATECH in Nantes, France, chose three of them to be awarded. The basic criterion was, besides the quality of the scientific text itself, the student's own contribution and the impact of the achieved results.
As part of the CAAS project, Katarína participates in the Partphys research program - i.e. particle and nuclear physics. CAAS is co-financed by the European Union.