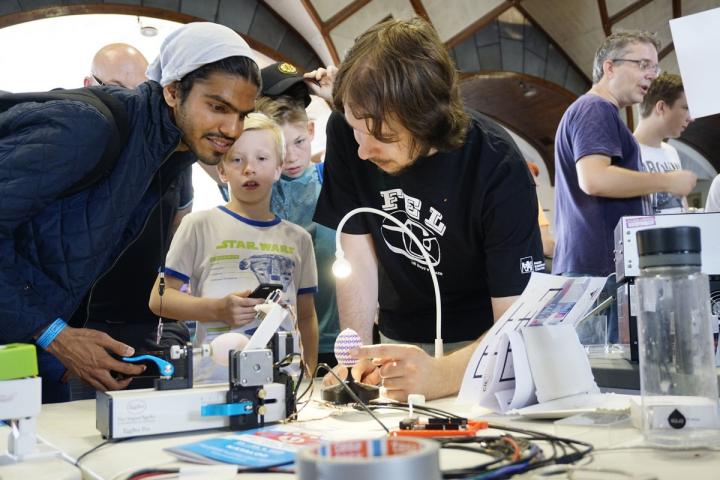 The second annual Maker Faire Prague festival took place at the Prague Exhibition Grounds on 22 and 23 June. It is the largest Czech meeting of modern handymen and inventors, whose ambition is to introduce playful educational projects. The event's partner was CTU in Prague and Jiří Zemánek from the Faculty of Electrical Engineering.
In addition to workshops and interesting lectures, the festival also hosted special exhibitions of the Robo Competition. After ten years of existence of the popular LEGO robot competition, whose finals traditionally take place in the lecture hall of the Faculty of Electrical Engineering, the best robotic vehicles were presented here to a wider audience.
A number of student projects from CTU could be seen at the festival. Printing from recycled materials was presented by PETMAT from the Faculty of Architecture and the Intermedia Institute showed its Interactive Garden. For example, the Faculty of Electrical Engineering has demonstrated the eForce student formula car, students from the wITches group offered electronics for kids to play with it or produce glowing magic wands. FEL students also showed a robotic dog, adaptive cruise control cars, LEGO projects, or an electromagnetic fountain. Two projects of students of Cybernetics and Robotics field have received the "Maker of Merit" award at the festival - specifically the glass Rijke organ, which was exhibited by Krištof Pučejdl, and the interactive ferrofluid display, which was presented by Lukáš Pospíchal.
Maker Faire is the world's largest showcase of modern DIY projects and creativity, held since 2006 in many cities around the world. The Prague version is organized by Maker Faire Prague group, which is founded by No Science association, Taktiq Communications agency and the Make More initiative. The festival is under the patronage of PRUSA Research, the world-class manufacturer of 3D printers, in cooperation with the Czech Technical University in Prague as the professional partner. Other partners of this year's edition are Arrow, the global distributor of electronic components, Conrad, Hornbach, YSoft, Seeed Studio, Kingston and BigClown.