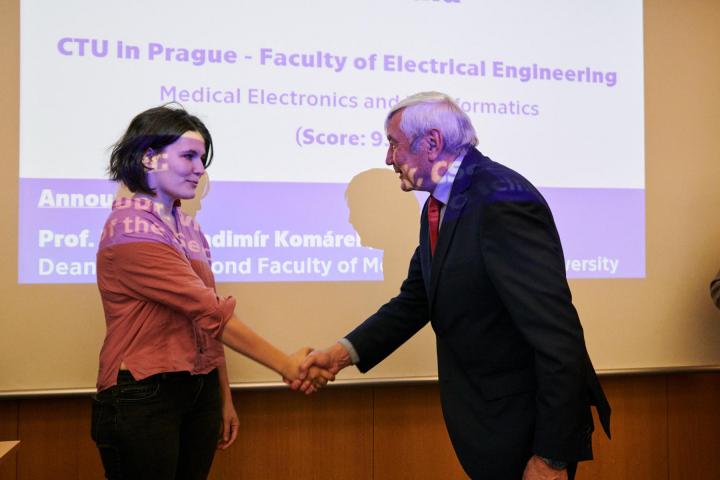 Results of the Biosignal Challenge 2019 international competition were announced on May 21, with participation of the future Dean of the Faculty of Electrical Engineering of CTU in Prague, prof. Petr Páta and Dean of the 2nd Faculty of Medicine of Charles University, prof. Vladimír Komárek. In the third year of the competition the focus was set on the detection and localization of the onset zone of epileptic seizures. The best overall result was achieved by Bc. Laura Shala, student of Medical Electronics and Bioinformatics at Faculty of Electrical Engineering of CTU in Prague. Her solution extends the basic principles of seizure detection in invasive EEGs to graph theory methods that describe abnormal communication between brain areas affected by epileptic seizures.
The jury awarded the second place to Bc. Jonas Nienhaus, a double degree student at RWTH Aachen University and Faculty of Electrical Engineering and Information Technology, Czech Technical University in Prague. By extracting more than a hundred parameters and classifying them with AdaBoost, he managed to differentiate between normal and epileptiform brain activity at the point of origin. The third place was taken by the team of Bc. Viktoria Lysenko and Bc. Jan Vimr from the Electronics and Communication study program at Faculty of Electrical Engineering. They designed a computationally fast algorithm that looks for a step change in the EEG signal character during the transition to an epileptic seizure, thereby detecting the onset of the seizure and its most likely source.
The Biosignal Challenge was established at the Faculty of Electrical Engineering of the Czech Technical University in Prague in cooperation with the Institute of Physiology of the Academy of Sciences of the Czech Republic and the 1st and 2nd Medical Faculties of Charles University in 2017, with the financial support of Humusoft and MathWorks, as a continuation of annual student competitions on Medical Electronics and Bioinformatics. Students solve real diagnostic problems in neurological fields using methods of biological signal analysis.Informace o programu Lékařská elektronika a
Information about Medical Electronics and Bioinformatics can be found at bio.fel.cvut.cz.
Photo: petr Neugebauer, SVTI FEL ČVUT