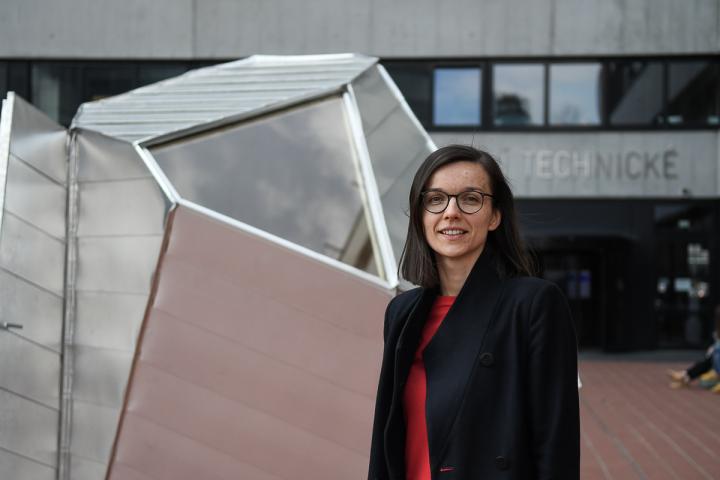 In the academic year 2019/2020, the Czech-American government scholarship program will send a total of 15 students to the US, among them Šárka Malošíková from the Institute of Design II at Faculty of Architecture. At the University of Colorado in Denver, she will examine and research the design-build projects that students not only design but also build. She is the fourth doctoral student of Faculty of Architecture of the Czech Technical University in Prague, who has been awarded the prestigious Fulbright-Masaryk scholarship.
Šárka Malošíková graduated from the Faculty of Architecture of the Czech Technical University in Prague (2012), she studied at the École Nationale Supérieure d'Architecture de Paris-Belleville (2008) within the Erasmus program, her internships include the Renzo Piano Building Workshop in Genoa (2010 - 2011) and Heide & von Beckerath in Berlin (2012). Since 2016, she is doctoral student at the Faculty of Architecture, tutored by Dalibor Hlaváček. She is a member of the Academic Senate of the Czech Technical University, has worked as a lecturer in the MaMA studio (2013 - 2018), and now teaches at the design studio for freshmen. Its theme is design-build projects in architectural education, ie "design and build" approach, which allows students to not only design and draw a building, but also implement it with their own hands.
As an alternative to standard teaching, design-build projects have a long tradition in the US. Currently, more than 80% of architectural schools offer it within their educational programs. Over the past two decades, this kind of teaching has been adopted by schools in Europe and the world. At several universities, there are also comprehensive programs, including technical and managerial courses.
One of the first and longest-running programs in the US (founded in 1992) is ColoradoBuildingWorkshop (CBW) at the Faculty of Architecture and Planning of the University of Colorado in Denver. Its most recent release - the ROMO Backcountry Privies (2018), public toilets at Long's Peak which is the highest mountain in Rocky Mountain National Park and one of the most visited places in Colorado, has won, as well as most CBW projects, a number of awards, among others the design-build projects Award for Architectural Education awarded by the Association of American Collegiate Schools of Architecture (ACSA).
The opportunity to study, conduct research and teach in the US has been provided to Czech citizens by Fulbright scholarship programs funded by the Czech and US governments since 1991. Many architects experienced study stay in US thanks to the Fulbright's scholarship among them Dean of the Faculty of Architecture in Liberec Osamu Okamura, Rector of ARCHIP Regina Loukotová or Pavla Melková, founder of the Public Space Office at IPR.