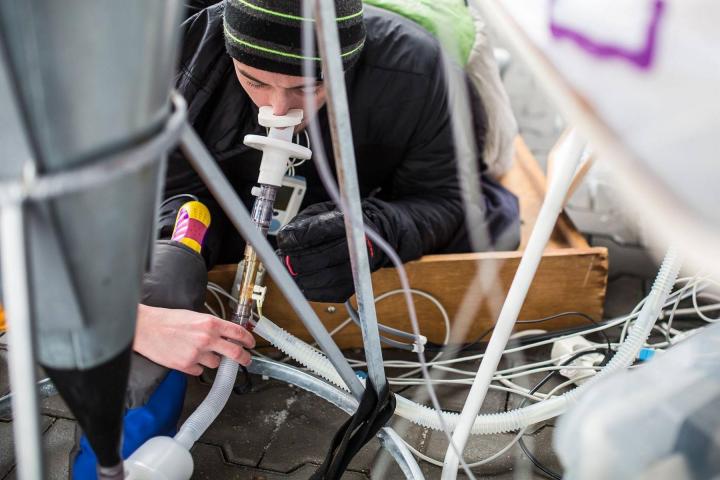 Questions about breathing of a person trapped in an avalanche or how quickly oxygen is lost are being investigated at the Faculty of Biomedical Engineering at CTU by a team of scientists from the Department of Biomedical Technology in cooperation with the Faculty of Physical Education and Sport at the Charles University and the Czech Army. Within the avalanche research, they focus on breathing of victims under the snow.
The research builds on the frequent question of whether the so-called air pocket can prolong the survival of the snow-covered victim. For the first 15 minutes, snow cover will be survived by up to 90% of people, but then the survival chances fall rapidly and after another 15 minutes, less than one-third of the victims stay alive. What it so important happening between the 15th and the 30th minute? To shade light on some processes, scientists from the ventilation team of the FBMI Department of Biomedical Technology contributed to the research of artificial lung ventilation in intensive care units and emergency medicine.
The research at the FBMI on breathing under the avalanche also brought first surprising results. A long decades-old saying that a victim has to try to create the largest air pocket in front of his mouth to breathe from it has turned out to be mistaken. According to the research team leader prof. Karel Roubík the volume of space potentially created this way in is negligible in comparison with the human breathing volumes and provides little air supply. Scientists have shown that breathing under the snow does not require a cavity but rathe unobstructed airways.Aby byl tento proces a jeho limitace lépe pochopeny, vědci dělají série experimentů se zdravými dobrovolníky (vojáky), kteří pomocí speciálně upravené aparatury dýchají do simulovaného lavinovaného sněhu. Během těchto pokusů jsou pečlivě monitorováni přístroji používanými na jednotkách intenzivní péče.
In order for this process and its limitations to be better understood, scientists are doing a series of experiments with healthy volunteers (soldiers) who breathe into simulated snowball through specially adapted apparatus. During these trials, they are carefully monitored with instruments used in intensive care units.
This research raises other questions with intensive work on answers. In addition, the prepared experiments will be designed based on a questionnaire survey among avalanche victims, which is currently carried out under the auspices of the Society of Mountain Medicine of the Czech Republic. This questionnaire is not only focused on the circumstances of the accident, but rather on the subjective breathing experience of the snow, resulting in oxygen depletion and the accumulation of carbon dioxide, and the influence of the group's decision-making process before the accident.
Media Eurozpravy.cz, tyden.cz, 21.stoleti.cz also informed about the research.
Photo: Deník/Michal Fanta