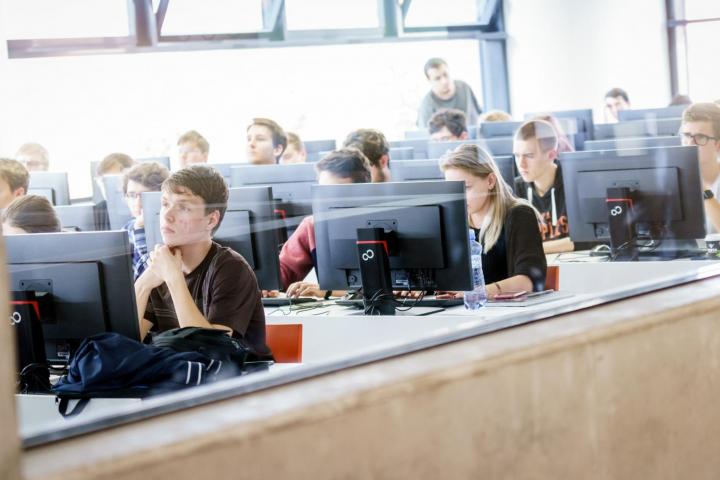 More than 300 new professional computers and other equipment can be used by students and teachers from this academic year at the Faculty of Information Technology. By modernizing the technical background of the teaching space, the faculty thus took the first step towards complete innovation of its ICT infrastructure. The innovations were launched during summer months so that students and teachers could experience them immediately from the start of the semester. There has been a complete and unified replacement of the hardware used and the installation of new software.
The basic configuration of the computer stations now consists of: Intel Xeon E3-1245v6 @ 3.7GHz 4GB processor, 32GB DDR4 ECC RAM, 512GB NVMe SSD disk and NVIDIA GeForce GTX 1060 graphics card with 1152 CUDA cores and 3GB GDDR5 RAM. Uniformity, performance, 24/7 operating capability, the number of machines and their reliability offer a wide range of uses. They will primarily provide faculty with better quality and extension of learning in all directions by using more demanding software and applications. The machines can also be used in a similarly powerful computing CPU and GPU cluster.
All display devices in classrooms have been replaced in such a way that the visibility is good regardless of the ambient light conditions. The new QHD 27 "high-resolution monitors are equipped with constant image quality regardless of the viewing angle and dynamic brightness control thanks to the light sensor. The projectors have been replaced with reliable and maintenance-free, high-brightness laser offering up to 5000 ANSI lumens and Full HD resolution. In addition, classroom facilities have central remote management capabilities.  
The classroom computers' software is changed according to the requirements and teaching needs during each semester. Now, however, operating systems have been upgraded and unified, namely all Windows to Windows 10 and Linux distributions have been changed from Gentoo to openSUSE Leap 15. The whole classroom restoration was financially supported by Ministry of Education, Youth and Sports from the Operational Program Research, Development and Education.
As part of a joint project with the Faculty of Architecture, spaces that are shared between faculties have also undergone the technological innovation. For example, the building has acquired state-of-the-art Wi-Fi technology, and all four lecture rooms have had completely replaced projection systems and modernized sound systems. New projectors with laser technology now offer Full HD resolution, and the largest auditorium for 300 people can be use projection in Edge Blending mode - one large compact image by synchronizing all three projectors at once. New screens above the entrance to the lecture rooms were also installed. In addition to the room schedule, a live stream can also be projected on them, which will also be used extensively at conferences and other events that are often held in these venues.
In the next steps of its innovations, the Faculty of Information Technology plans to rebuild all computer networks to a high throughput and low latency networks, expand the computing cloud for supporting science, research and teaching, set up a large central data repository for scientists and students, and launch a powerful computing cluster.