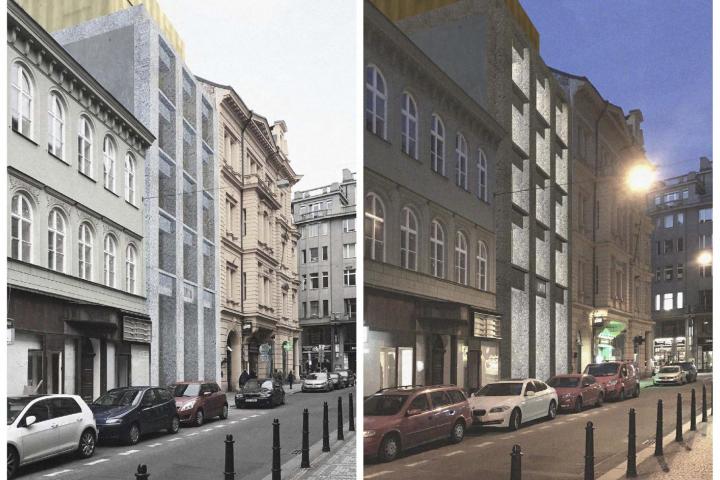 Filip Galko has designed a lighting shop as a theater in which the scenes are changing, so the customers can better imagine how the selected lighting fit in the interior. In her project, Veronika Indrova converted the Strahov stadium to flats. For their designs, these students of the Faculty of Architecture are among the 40 most successful in the respected Young Talent Architecture Award receiving their prizes in late September at the 16th International Biennale of Architecture in Venice, where their works will be exhibited until 25 November. Thanks to their success, the Czech Republic has ranked among the most successful countries of this year's competition of architectural diploma projects.
The diploma thesis by Filip Galko, tutored in the studio of Professor Stempel and architect Ondrej Benes, is called 'Lasvit Flagship Store Showroom Prague' and represents the vision of the main showroom of this brand. Lasvit builds on the famous tradition of Czech glassmaking and represents the reputation of the Czech Republic abroad. Using lighting and projection techniques, a real sense of customer's future interior can be created in the space. The living area is simulated by projection screens. The illusive living space thus helps the client's spatial imagination and makes it easier to choose the right luminaire. Hanging on movable traction devices, just like theater backdrops, it is possible to test several different luminaires in the illusive space quickly and easily. The proposal provides the maximum freedom for organizing various cultural events, vernissages, fashion shows, concerts or lectures. The service part of the building is divided into 6 or 7 floors. The ground floor provides space for smaller and less important amenities such as a café-bar, warehouses, exhibition of a small assortment, or office space for employees,
The thesis of Veronika Indrová, tutored in the studio of architects Tomáš Novotný, Jakub Koňata and Tomáš Zmek, deals with the ideological solution of Masaryk Stadium in Strahov, the largest stadium in the world and also one of the largest unused territories, called brownfields, in Prague. Her proposal is a new type of housing where residents meet students from neighboring student dormitories and together they create a new Strahov town.