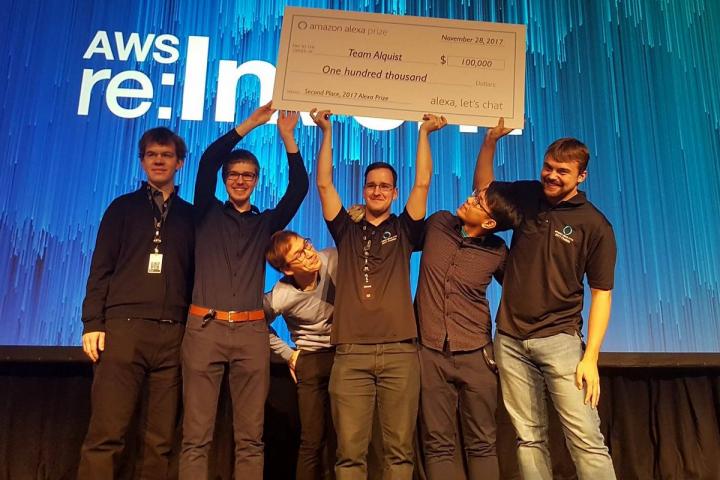 Under the leadership of Ing. Jan Šedivý from CIIRC, students of the Faculty of Electrical Engineering Long Hoang Nguyen, Jan Pichl, Martin Matulik, Jakub Konrad, Petr Marek and Ondra Pech made it to the Alexa Prize finals. They competed who can develop the best chatbot working with the Amazon Echo smart device. The announcement of the best of the top three competing teams was held on 28 November at Amazon's traditional technical conference re:INVENT in Las Vegas. The Czech team will bring home the second prize and financial award of $ 100,000.
The Czech chatbot called Alquist has reached the finals among the three best in the world. He competed with the winning Sounding Board from the University of Washington and What's Up from Scottish Heriot-Watt University.
The previous round of the competition started this spring, with twelve university teams in it. Thanks to this, CTU received $ 100,000, which made it possible to properly develop the Alquist bot. Amazon also provided access to the Amazon Web Services cloud and supporting the team around the Alexa digital assistant. During the competition, the czech chatbot received the highest average rating. Digital assistants were tested directly by Amazon customers who use the Alex. They chatted with the chatbots and then evaluated them. But the criteria were several. Decisive was also the opinion of Amazon's experts, the scientific contribution, the accuracy of the answers, the knowledge of the topics, and so on.