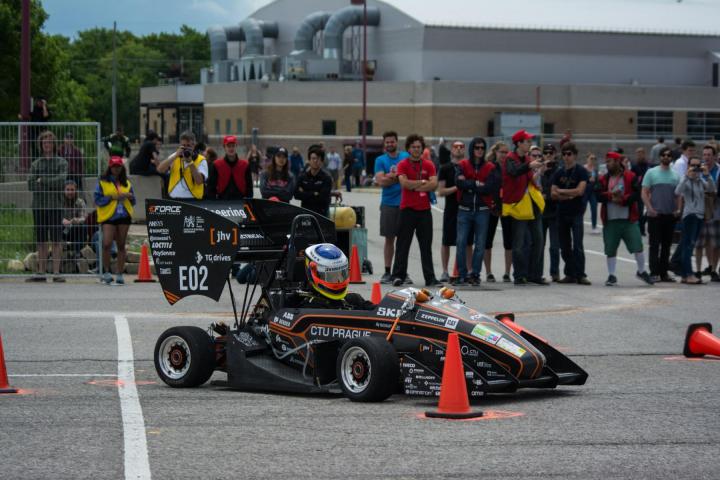 The Eforce FEE Prague Formula team, representing the Faculty of Electrical Engineering, concluded the Formula Student competition with the overall victory in Barrie, Canada on 6 June. The students attended it as part of the project OTO - Over The Ocean.
The Formula Student competition consists of individual races within which the teams must attend both static disciplines, such as design solution of the formula car and presentation of its business plan before a jury, and the race itself. The race included  discipline of acceleration on the 75-meter long skid-pad (ride in eighth grade), the Autocross qualifycation and the 22 kilometers long Endurance discipline. The Formula Eforce  dominated all the dynamic disciplines with considerable margin. It took the lead with a respectable 521.13 out of 1000 points difference from the second placed team.
The creation of the formula car is mainly the work of students of Electronics, Power Engineering and Management study field. Besides the construction of the single-seater, the outlaying project also teaches how to establish a budget, a business plan, or communication with its partners and sponsors. The team also includes students of the Faculty of Mechanical Engineering.
More information about the Eforce FEE Prague Formula single-seater and articles about overseas trip, visit  https://eforce.cvut.cz .
Video from the Barrie races can be watched here.
Servers Českénoviny.cz, Novinky.cz and 21.stoleti.cz had also informed about our students' victory.