National Centre for Industry 4.0 has prepared the Czech Industry Analysis 3/2022 on the occasion of the independent debate of industry personalities - the Czech Industry Barometer, which will take place on 8 December. The analysis is based on data obtained during 213 interviews with key representatives of selected Czech industry companies, the management of industrial associations and other experts of Czech industry. The survey was conducted in September-November 2022.
Sales of manufacturing companies will fall by 3% next year, with small and medium-sized companies particularly at risk. The vast majority of firms (78%) are bracing for a fall in profits. A third of the CEOs surveyed are worried about losses. Manufacturing firms would like to increase their prices by a fifth, but this increase will not even half cover their rocketing costs. These have increased by 75% year-on-year.
Czech industry has been fully affected by the problems of uncertain, delayed and expensive supplies, high energy prices and record high inflation. A number of segments of Czech industry have begun to stagnate or decline in their performance, with the full impact of the crisis to be felt next year.
In many cases, manufacturing companies have to face a decline in their orders due to the deterioration of their customers' purchasing power and the postponement of their investments. On the other hand, they are limited in their ability to reflect the increased costs, which are 73 % higher year-on-year, in their selling prices. The majority of directors of manufacturing companies (72 %) have still not reached an agreement with their energy suppliers for the next year and are therefore unable to budget for a certain item. The impact on the performance of manufacturing companies is and will be substantial.
"Declines in retail sales, revisions to forecasts for economies abroad and other negative signals point to a slowing economy and declining order outlook. Economic growth is expected to stagnate next year in the Czech Republic and in the euro area, and even to fall slightly in Germany. The Czech Republic's GDP has already fallen quarter-on-quarter and we are on the verge of a technical recession," says Jaroslav Hanák, President of the Confederation of Industry and Transport.
"We are expecting a very difficult year, probably with a drop in orders and therefore also in sales. As far as the development of margins is concerned, this will be shown mainly by the development of wages and energy. If we add the likely decline in sales with the opposite development of costs, it will not be easy," fears Jaroslav Chvojka, Linet's production director.
Ivan Novotný, Managing Director of Miroslavské strojíren, also expresses doubt: "The situation is very bad. We work with customers with long-term contracts and we are not able to react immediately to increased energy prices. I can already confirm that 2022 will probably be the worst year for our company in terms of economic results in our almost 30-year history."
The Strojcar company is facing a deep crisis due to the difficult situation: 'We are struggling to survive. It is difficult to translate the increased costs into prices and we are unable to maintain profitable operations. We are diversifying our orders - cancelling projects with low added value and only confirming projects with high added value, all at the cost of commercial disputes or even legal disputes," admits Libor Witassek, the company's managing director.
The Flukov is also in trouble. "The main customer is missing other components, production is at a standstill. The situation is getting worse. We are currently dealing with a 75% drop in production. Meanwhile, employees are taking holidays. We are trying to survive and we are using the reserves from previous better years," says Alena Aksamitová, the company's managing director.
Despite the record high inflation rate, manufacturing companies' sales are expected to fall next year, by an average of 3%. "It should be stressed that there were large differences between the forecasts. From growth in the lower tens of percentages to a major drop in revenues and expected closures. Only a very small share of the surveyed directors (3%) expects revenue growth exceeding the Czech National Bank's predicted inflation rate of 9% next year," comments Alena Burešová, Senior Industry Manager at National Centre for Industry 4.0, on the results of the survey of two hundred and thirteen manufacturing companies.
Small businesses are most at risk. Their management fears a five percent drop in sales. "The reasons are obvious - small companies have contracts for a shorter period of time than large companies, and therefore the decline in global demand has been felt earlier. They are in a worse position and smaller ones have less bargaining power in setting their prices or offsetting higher production costs. In addition, they find it harder to raise finance for innovation and, due to lower levels of digitalisation, can respond less flexibly to changes in the situation. This comes at an extra cost," explains Alena Burešova.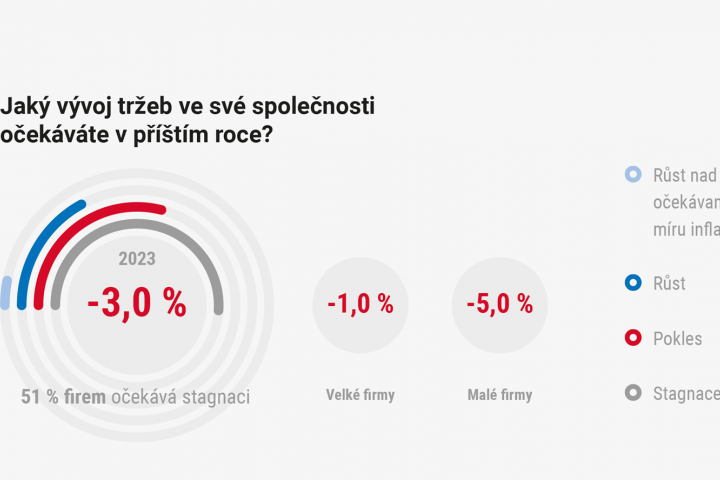 Unstoppably rising costs on all fronts of the production line, limited ability to reflect more expensive inputs in sales prices, expected reduction in order volume for next year for one third of the surveyed companies (confirmed by 36% of directors). As a result, margins will decline in 2023 for 85% of manufacturing firms, including most of those that will see growing or stagnant sales next year.
Even wealthy Continental, a leader in technology and digitalisation, is forecasting lower profits. "We expect an increase in sales due to new projects next year, but with negative margins. The reason for this is the ever-increasing costs of materials and wages," says Tomáš Vondrák, director of the Brandýs plant. In Kopřivnice Tatra they are waiting for the development of energy prices and subcontracting. "We hope that there will be no further international increases. If it did, our margins would fall, because most of our contracts are concluded for several years," says Kamil Košt'ál, the company's marketing director.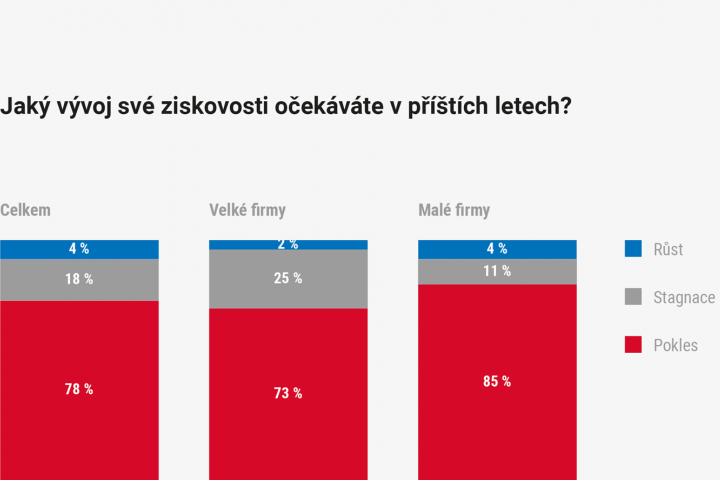 In response to the current record inflation rate, 91% of manufacturing companies will raise their prices next year. However, the average increase of 19% will fall far short of covering the soaring costs of materials and components. On average, manufacturing firms have seen a 73% year-on-year increase.
"Some of our production costs have doubled year-on-year. Of course, we try to reflect them in prices wherever possible," comments František Kulovaný jr., CEO of BAEST Machines & Structures in Benešov.
Companies usually cannot pass on such a drastic increase in costs to their customers, so they have to look elsewhere for a solution. "We can project increases of up to 10%, the rest we cover by rationalisation and savings," says Aleš Mikula , CEO of ZPA Smart Energy.
When preparing new contracts and price calculations, the near doubling of the price of production inputs are taken into account by the directors as much as possible, so another wave of price increases can be expected. According to the CNB's forecasts, the inflation rate is not expected to exceed 10 per cent next year. However, a number of experts fear that the inflation rate will remain in double digits in the first half of 2023 precisely because of the "postponed" price raise.
Further information and a complete analysis can be found in the Czech Industry Analysis 3/2022, which will presented by National Centre for Industry 4.0 on 8 December 2022 in the Czech Industry Barometer. Karina Kubelková, Member of the CNB Bank Board, Eduard Muřický, Deputy for Management of the Industry and Construction Section of the MIT, Martin Jahn, President of the Automotive Industry Association, and David Navrátil, Chief Economist of Česká spořitelna, have confirmed their participation. Journalists are cordially invited to register by 7 December at  alena.buresova@cvut.cz.