After two and a half years of construction, a unique experimental laboratory, the largest of its kind in Central and Eastern Europe, was inaugurated on 28 April 2022 at the Czech Institute of Informatics, Robotics and Cybernetics of the Czech Technical University in Prague (CIIRC CTU). Testbed for Industry 4.0 is a research infrastructure that is being built at CTU thanks to a significant investment of EU and Czech funds within the RICAIP centre. Thanks to this, Czech industry has access to the latest scientific knowledge and applications for advanced manufacturing and modern factories of the 21st century. On this occasion, cooperation with the German Fraunhofer Institute IWU and the University of Ostrava VŠB-TUO was signed in the presence of government representatives.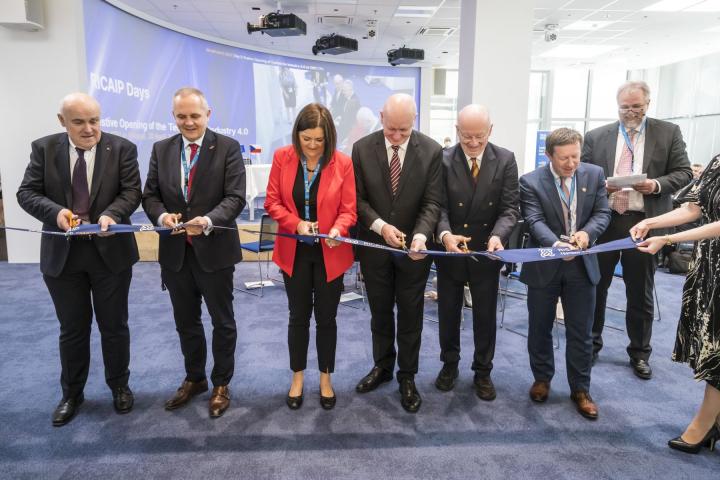 The Czech-German RICAIP Centre is the largest project in the field of robotics and industrial artificial intelligence, which is jointly financed by the European Union and the Ministry of Education and Science in the amount of EUR 48.5 million (i.e. about CZK 1.2 billion) for a period of six years. Most of these funds are earmarked for the latest technologies for Industry 4.0. The Testbed for Industry 4.0 at CIIRC CTU forms the core of this network of experimental sites. RICAIP thus links the Prague Testbed with the Industrial Testbeds in Brno at CEITEC BUT and in Saarbrücken, Germany, which are jointly managed by the top institutes for artificial intelligence and automation DFKI and ZeMA. Together, these three Testbeds form the basis of a robust European research infrastructure for advanced industrial manufacturing, the one of its kind in Europe.
The Prague Testbed has been in operation for more than three years, and has now undergone a significant reconstruction and retrofitting with state-of-the-art technologies that are often unparalleled in their parameters and composition. During this time, it continues to serve dozens of entities in the Czech Republic and Europe, scientists, but also small or medium-sized enterprises and international leaders such as Siemens, VW, Lego or Airbus.
"Testbed is an increasingly appreciated advantage that enables CTU and other Czech partners from academia and industry to participate in a number of prestigious European research projects and networks," says Vojtěch Petráček, Rector of CTU in Prague. Thanks to this, CIIRC CTU currently a partners with four of the six Centres of Excellence supported by the European Commission in recent years in the field of artificial intelligence and robotics.
The opening ceremony of Testbed at CIIRC CTU was attended by a number of guests of honour, including the spiritual father of Industry 4.0, Professor Wolfgang Wahlster, representatives of the government and ministries led by Minister for Science, Research and Innovation Helena Langšádlová, H.E. Andreas Künne, German Ambassador, and representatives of universities and Czech industry.
"It is important that RICAIP, as a project of European importance, has its centre in the Czech Republic and that it will bring significant opportunities for Czech companies to develop their technological and innovative potential," emphasises Helena Langšádlová, adding, "The newly opened Testbed for Industry 4.0 at CTU is a tangible proof of this."
"Thanks to this research infrastructure, our institute and CTU are succeeding in realizing a long-term vision - we are building a very complex research ecosystem for intelligent industrial production. We are connecting world-class scientists working in the Czech Republic and abroad, and on the other hand, we are helping to transfer scientific knowledge into industrial practice," explains Prof. Vladimír Mařík, Scientific Director of CIIRC CTU and member of the RICAIP Board of Directors, and adds: "Testbed offers a realistic environment for research at European level, but it also offers solutions or research services directly to Czech companies: manufacturing companies or technology developers. We are thus able to cover the entire innovation cycle, from the verification of purely scientific theories and experiments to the transfer of new technologies and practical procedures to industry."
"Today - April 28, 2022 - marks the completion of a crucial phase of the Testbed for Industry 4.0 at CTU. A completely unique environment is being created here for testing, simulation and development of various scenarios that are crucial for the transformation of the Czech economy towards Industry 4.0 in accordance with the requirements of the Green Deal," says Prof. Vladimír Mařík.
On this occasion, two Memorandums of Understanding were signed, paving the way for the further development of a European network of Testbeds linked within the RICAIP framework. The cooperation was confirmed with the Technical University of Ostrava (VŠB-TUO) and the German Fraunhofer Institute IWU. The latter also has one of its technical branches in Dresden, where on an area of 1000 m² they specialise in research in the fields of additive manufacturing, mechanical and medical engineering.
"Deepening of the cooperation with CTU and our involvement in the joint efforts of CTU's CIIRC and RICAIP is the logical outcome of several years of cooperation, which we have been successfully implementing mainly with teams from CTU's Faculty of Engineering," explains Professor Steffen Ihlenfeldt, Director of Fraunhofer IWU.
"Our cooperation with RICAIP and CIIRC CTU is not new, as evidenced by the recently submitted joint project for the development of a large research infrastructure, involving connection of our Testbed CPIT TL3 in Ostrava with both RICAIP Testbeds in Prague at CIIRC CTU and in Brno at CEITEC BUT. We have also been cooperating with Fraunhofer IWU for several years on projects mainly in the field of energy management and smart industrial production technologies.  It is therefore symbolic that we all met today and officially confirmed these ties," says Prof. Václav Snášel, rector of VŠB-TUO
"RICAIP and Testbed is a concrete example of effective Czech-German scientific and industrial cooperation. What is important is the versatility of this environment - we are involved in large research tasks in the field of artificial intelligence and robotics, but we also offer services to small and medium-sized enterprises in their transformation towards digitalization and automation," adds Dr. Tilman Becker, Director of the RICAIP Centre.