On April 19, the Czech Institute of Informatics, Robotics and Cybernetics of CTU in Prague organized a meeting of two worlds of art - music and painting - with the aim of supporting Ukraine. There was a concert by the CTU Academic Orchestra, which also featured harpists from Ukraine, and artist Martina Konvičková presented her painting Peace in Yellow and Blue, which was painted as a reflection to current events in Ukraine.
In addition to its research activities, the Czech Institute of Informatics, Robotics and Cybernetics tries to connect science with art or social disciplines, which is why concerts and theatre for children are currently held within the Institute's premises, while exhibitions are held in the publicly accessible atrium of the building.
"I am very pleased that our institute will be decorated with a very impressive painting by Martina Konvičková. A festive evening with a concert would be enough in itself, but the strong atmosphere of the event strengthens its human dimension: we want to express a clear message of our support of Ukraine and wish that people who had to leave the country would feel welcome here," said Dr. Ondřej Velek, the director of the Institute. "That's why we provide space for Ukrainian scientists, that's why Ukrainian harpists perform with us," he added.
Under the direction of conductor Jan Šrámek, the Academic Orchestra prepared a varied programme of works by Wolfgang Amadeus Mozart, Cecile Chaminade and Gustav Holst. Solo performances were given by harpists Anastasia Subina and Lilia Konstantinova.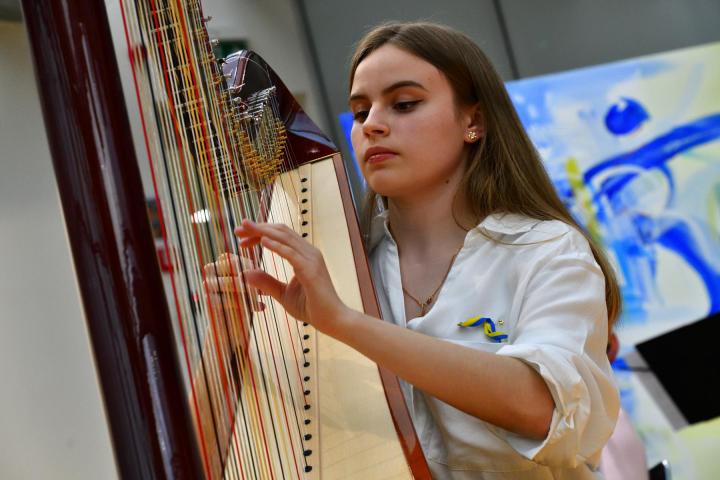 "The Academic Orchestra gives musical opportunities to students not only from the CTU, but also from other colleges and universities. When I found out that there are harpists of Ukrainian origin in Prague, I offerd them the opportunity to perform with this attractive instrument, without hesitation" said conductor Jan Šrámek. "And I am very glad that parallel considerations about linking the concert with support for Ukraine were also taking place on the part of the CIIRC."
Painting MÍR VE ŽLUTÉ A MODRÉ
200 x 200 cm, acryl on canvas
Martina Konvičková
Martina Konvičková's large canvas Peace in Yellow and Blue will decorate the entrance to the CIIRC building for a long time and welcome visitors with its positive vibrations. "The combination of yellow and blue is sinking deep into our skin these days. For me, they have always meant sun and water. Sources and necessary conditions for life. When they touch, they give rise to green. The colour of the heart chakra. A sprout, a new life. The body of every leaf in the rainforest. Take a deep breath," Martina Konvičková presented her inspiration. "I can stand here and say, it affects me, and what I wish with all my heart is peace."
Guests of the gala evening were invited by the organizers to make a voluntary donation to one of the charities helping Ukraine.
Martina Konvičková graduated from the Faculty of Law at Charles University, later focusing on the issue of domestic violence. Art school and studios have accompanied her since her student years. Originally from Františkovy Lázně, she currently lives in Roztoky near Prague. Inspired by the valued friendship of jungle painter Otto Placht, mentored by sculptor Jaromír Gargulák and motivated by her collaboration with Ton Stan, V. Kula or Jiří Šubrt, she became a confident expressive painter. Her contemporary work has been impressively received and installed in the Czech Republic, Germany, Holland, Croatia and Spain. Her distinctive style is unmistakable. More at http://martinakonvickova.cz/
The Academic Orchestra of the CTU is a unique musical ensemble in the Czech Republic, providing opportunities in musical performances for students not only from the CTU, but also from other colleges and universities. The chief conductor is professional conductor Jan Šrámek, who draws on his many years of artistic experience in professional music ensembles, as well as his experience as a director and dramaturgist . The orchestra performs mainly on Prague stages, but also in other places in the Czech Republic. The orchestra also receives invitations to perform outside the academic community of the CTU. For example, in the Senate of the Czech Republic and in the Spanish Hall of the Prague Castle. The orchestra has enjoyed great success at concerts in Cambridge, England. One of the greatest successes was the concert entitled "Living Memory" in the sold-out Smetana Hall of the Municipal House. Other successes include premieres of compositions by J. Vogel, a concert for Charles University, and concerts with soloists such as Pavel Šporcl, Ivo Kahánek and Lubomír Brabec. More at http://www.orchestrcvut.cz/