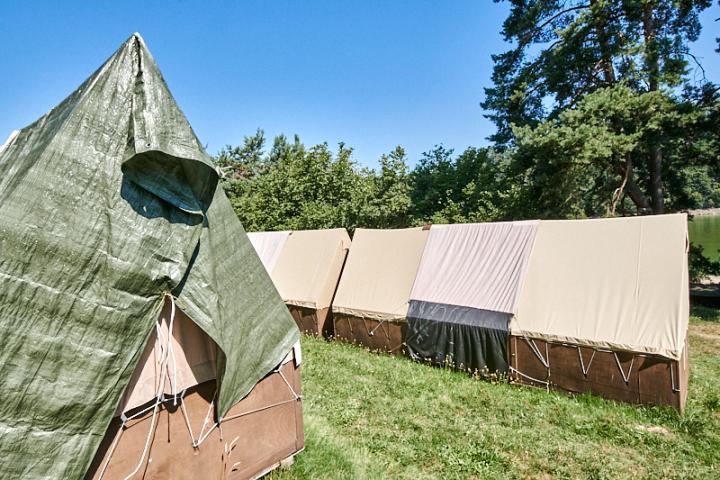 A thrilling rescue mission awaits the participants of this year's FEL Camp, which will take place between 24th and 28th July near the South Bohemian village Temešvár. They will be searching for the dean of FEE CTU, professor Petr Páta. The scientist got "lost" during a research on the banks of the Orlík reservoir, where he investigated the connection between satellite imagery and changes in water level.
The members of the search group should also have an interest in electronics, computing, science and space. Plus team spirit and the ability to survive (at least for a couple of days) "in the wilderness". There is no electricity or internet connection in the place of stay - and they will sleep in tents.:)
Even so, potential participants can look forward to a very varied programme. In addition to the search, there will be evening bonfires accompanied by discussions with experts on various topics in the fields of electrical engineering, energy and communications. If you are interested in the combination of science and adventure, you can register via this form. And the sooner the better - as the capacity of the event is limited. This is the fifth year that FEL Camp has taken place, and last year students used technology to unlock the secrets of the past.
This year's novelty is also a competition for the general public. According to the main organizer of the FEL Camp, Zbyněk Kocur, the competition will be to capture the best image transmitted by the NOAA satellite system. Contestants must also be as accurate as possible in identifying the FEL AMP tent base and the location from which the image was taken. "Images must be taken on Wednesday, July 26, 2023, and must include the territory of the Czech Republic. The time of the overflight will be specified during a streamed lecture before the mission launch," described Kocur, who works at the Department of Telecommunication Engineering at FEE CTU.
During the spring, the organizers will also start posting advice on how to prepare for the competition and how to complete the task successfully via their Twitter account. "Then just send the captured and decoded images, along with a photo of the system people used to take the images, to camp@fel.cvut.cz. The resulting images will be evaluated by an expert A.I. the jury and the winner will be announced on July 26 at 21:00 CET via FEL social media," Kocur pointed out. The winner will get one more small task. He will receive the prize in person on 27 July at a specified time at the coordinates specified. The prize is a surprise.
More information about the course and conditions of the FEL CAMP and the competition can be found on the website. If you have any further questions, please send an e-mail to camp@fel.cvut.cz.