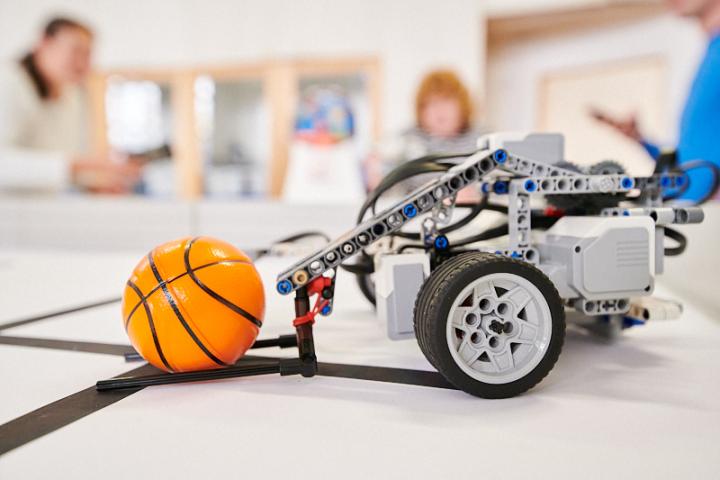 Four days and four basic rounds of the Robocompetition for secondary schools will take place at the Faculty of Electrical Engineering next week. A total of 160 robotic cars made of Lego construction sets, created by student teams from all over the country, will compete. The task, called Basketball, asks them to collect as many balls as possible from the playing field and throw them into a miniature basketball hoop. The best teams will advance to the finals, which will take place on 16 December.
The 14th edition of the Robocompetition is held under the auspices of the Faculty of Electrical Engineering, the Ministry of Education, Youth and Sports of the Czech Republic and the partnership of MathWorks, Humusoft, Škoda Auto and Applifting. After the spring part of the competition for elementary schools comes the autumn part and with it a more challenging task for the high school teams. "It's no fun to program a robotic Lego vehicle to play miniature basketball. I'm even more pleased with the interest from high schools and middle schools, which was once again so huge that we're essentially returning to the record numbers of teams signed up from before the coronavirus. To include all the 160 robots, we have to organize four basic rounds," says the organizer of the competition, Martin Hlinovský from the Department of Control Engineering of CTU Faculty of Electrical Engineering.
Come and have a look at Charles Square
The four basic rounds of the Robocompetition 2022 will again be held in the Zenger Auditorium of CTU FEL building in Prague, Charles square 13. During the competition rides, the auditorium will be open to the public between 11.00 and 15.00 hours on the following days:
tuesday 22. 11. 2022 (44 teams and their robots will meet head to head),
wednesday 23. 11. 2022 (39 robots),
thursday 24. 11. 2022 (38 robots),
friday 25. 11. 2022 (39 robots).
The top eight teams from each preliminary round (32 teams in total) will advance to the December finals, with 8 more teams having a chance at a wild card.
The exact timetable of the FEL CTU Robocompetition for secondary schools, competing teams, task description and other details can be found on the website or Robocompetition´s Facebook page.