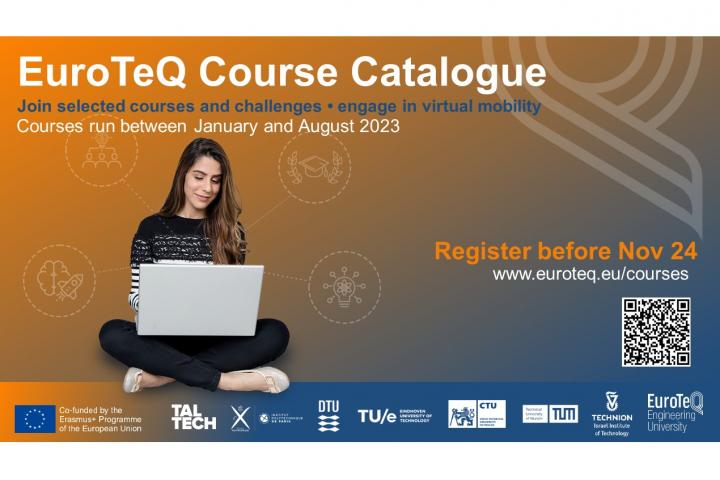 For the fourth time, our students have the opportunity to enrol in online courses at the partner universities of EuroTeQ alliance, of which CTU is a member since 2021. Specifically, the Technical University of Munich (TUM), Technical University of Denmark (DTU), Technical University of Eindhoven (TU/e), École Polytechnique (L'X) and Tallinn University of Technology (TalTech), also founded the EuroTeQ alliance. In addition to EU universities, École Polytechnique Fédérale de Lausanne (CH) and Technion - Israel Institute of Technology (IL) have also joined the project. The deadline for enrolling in the course is 24 November.
Students can choose elective courses offered by partner universities from the course catalogue available here.
The courses offered are taught in English and are generally available to students involved in the EuroTeQ project online, i.e. by distance learning.
Each course in the catalogue also contains information on the type of study for which the course is primarily intended. We ask students to choose primarily from courses that are designed for their type of study to avoid possible rejection from the partner university in the event of full capacity. We also ask students to carefully consider their level of English language to study at a foreign university. The recommended English language level is B2.
Application
If you are interested in the courses offered in the catalogue and you have chosen a course that you would like to study at one of the partner universities, please send your application to Mrs. Ing. Andrea Vavrinova at the following email address: andrea.vavrinova@cvut.cz, together with the following information:
the item you are interested in from the catalogue,
personal number of the CTU student,
faculty and field of study
type of study (BA/MA/PhD.)
The exact number of courses per student is not limited by CTU. It is up to the student to evaluate the difficulty of his/her studies and the mastery of all study obligations. We recommend enrolling in a maximum of 3 courses in a given semester. Approach the selection of courses with consideration so that we can be worthy of ranking among our partner universities not only in terms of the number of students who are interested in studying these courses, but also in terms of the number of students who have successfully completed their studies.