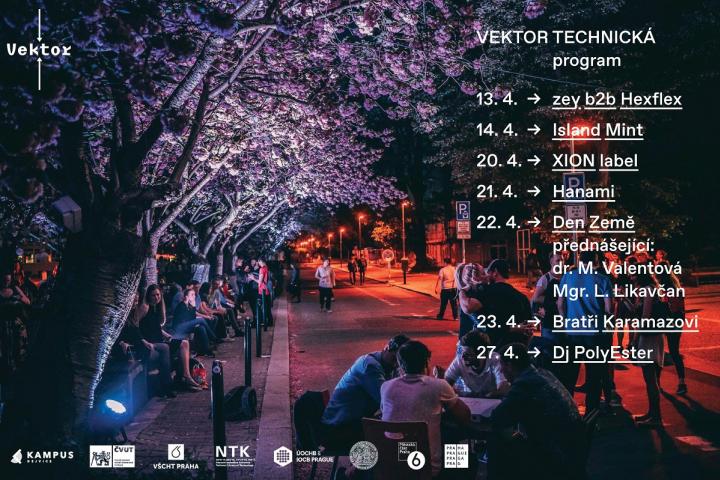 The main artery of the Dejvice Campus, the Technická Street, will be invigorated from 13 April to 30 June with a rich programme of lectures, workshops and cultural events in the open air called Vektor Technická. A new park space in Prague 6 will be created filled with furniture, a bistro and a café. The aim of the event is to deepen the connection between academia, the district and the capital. Between students, professors, staff and residents. Between professionals and the general public. Between culture and science.
The Technická street will be transformed from a traffic artery, through which people usually rush to and from school or work, into a socially active parterre under the nickname Vektor Technická from April to June of this year. A place in the greenery encouraging people to relax, work and play and the whole project itself, its purpose and goal thus experiments with the proposed changes to the street as outlined in the Campus Dejvice concept by IPR Prague. Refreshments for visitors will be provided by the Klubovna Cultural Centre and a Vietnamese bistro.
The rich programme will include not only cultural events, but also lectures and workshops on contemporary issues that are actively being addressed, especially within the campus buildings. The programme is designed to create a meeting place for interdisciplinary and intergenerational discussion.
The authors of the temporary modifications to the street and furniture are Petr Moschner and Susan Al-Hussein. They were selected by an expert jury through a student competition at the Faculty of Architecture.
The project is under the auspices of Prague City Councillor Hana Třeštíková, Rector of the Czech Technical University in Prague Vojtěch Petráček and Rector of the Institute of Chemical Technology in Prague Pavel Matějka.
The initiators of the project are the six institutions involved in the Kampus Dejvice platform. They are united by a common interest in making the Dejvice campus more attractive for social, student and scientific life. The Dejvice Campus consists of the Czech Technical University in Prague, the Catholic Theological Faculty of Charles University, the Prague 6 Municipal District, the National Technical Library, the Institute of Organic Chemistry and Biochemistry of the Academy of Sciences and the University of Chemical Technology in Prague.
fb: https://cutt.ly/bFpnBDI
ig: https://www.instagram.com/vektor.technicka/
www.kampusdejvice.cz
The Campus Dejvice concept by IPR: https://iprpraha.cz/project/5/kampus-dejvice
Organisers can be contact by email:  hynek.paty@kampusdejvice.cz or ursula.sereghy@kampusdejvice.cz.