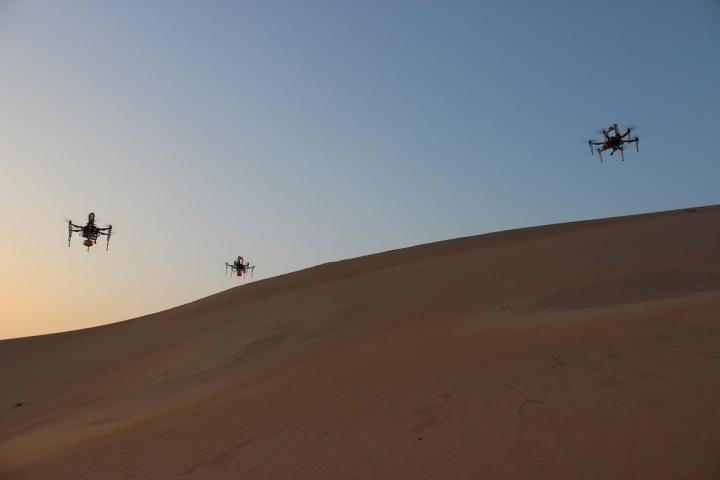 A team led by scientists from the Faculty of Electrical Engineering, coworking with researchers from the universities of Pennsylvania and New York, made it to the finals of all three sub-disciplines of the prestigious Mohamed Bin Zayed International Robotics Challenge (MBZIRC), organized by Khalifa University, that takes place in Abu Dhabi on 25 February. In addition, FEE representatives advanced to the finals of the main competition from the first place out of 200 registered teams. All partial disciplines - autonomous capture of flying drone, robotic wall construction and fire fighting in high-rise buildings will be solved simultaneously in the final round, showing the audience a glimpse of the robotic cities of the future.
In March 2017, the team of Dr. Martin Saska from the Faculty of Electrical Engineering, together with colleagues from the American University of Pennsylvania and the British University of Lincoln, obtained complete medal collection in the MBZIRC competition. Autonomous drones, emerging in the group of Multirobotic systems at FEE CTU, won with a huge lead in the discipline using the cooperation of several fully autonomous drones. In 2020, another year of competition is going to be held, for which the team sets the highest goals in the individual disciplines of cooperating autonomous robots, but also in the battle for the main prize, which is $ 1 million.
These days the team is finalizing preparations for robots (drones) and algorithms for their autonomous movement on Charles Square in Prague before moving the entire team to the United Arab Emirates. To test the system under development, a mock-up of a building of the same dimensions as the competition polygon in Abu Dhabi was built on the CTU campus at Charles Square. Outside and around this structure, it is now possible to see autonomous drones spraying water on detected hotspots, drones with a manipulator erecting a wall of polystyrene bricks, and drones equipped to capture a flying target. In addition, autonomous drones work together with ground robots equipped with more powerful manipulators and fire extinguishers to work together to accomplish tasks effectively. All this happens without any intervention from the operator or pilot. The robotic intelligent system must operate fully independently.
Ongoing information on testing and team´s stay in the UAE will be available on the Facebook group.
Contact person: Libuše Petržílková