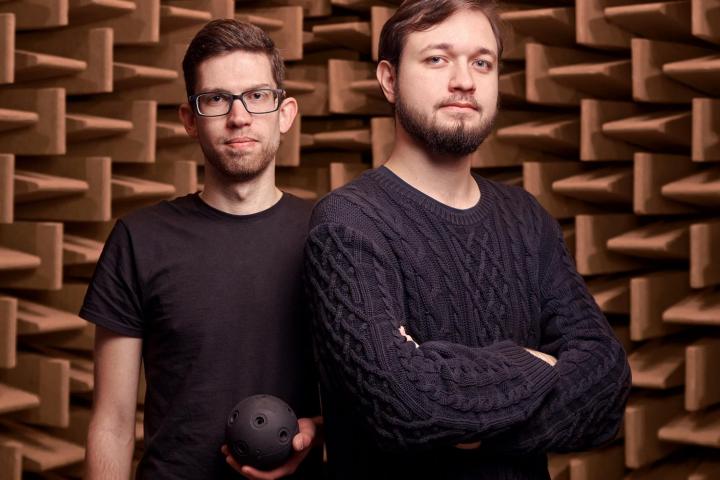 Versatility, ease of use and attractive design were the key words of the research team of students from FEL CTU and UMPRUM as they developed a device for recording spatial sound in the open-source world. Their achievement is apparent by their participation in this year's DesignBlock.

David Vagner and Tomáš Formánek from the FEL CTU and Danil Rekhtin from the Industrial Design Studio of UMPRUM joined forces to develop a prototype of a spherical microphone array (the MIC project) that can be manufactured at home from commonly available components. The project started at Faculty of Electrical Engineering of Czech Technical University in Prague as a bachelor thesis of David Vagner, who, as a student of the Electronics and Communication study program (specialization in Audiovisual Engineering and Signal Processing), worked on the acoustics and hardware of the device.
Tomáš Formánek, student of the Software Engineering and Technology programme (SIT) at FEL CTU, joined the project later on and provided the software development, while Danil Rekhtin took care of the design, and Daniela Dvornická from the Studio of Furniture and Interior Design at UMPRUM, who participated in the preparation of the exhibition for DesignBlok 2022. Major contributor was also their supervisor, Petr Honzík, Ph.D. from the Department of Radioelectronics, FEL CTU. Without him, none of this would have happened," says David Vagner, and Tomáš Formánek nods in agreement.
Both gentlemen answered questions about the exhibition at DesignBlock 2022. Read the most interesting ones in the article.
You've developed a surround sound recording device. What are we actually talking about?
D+T: Simply put, it is a microphone that picks up surround sound. It consists of sixteen digital microphones arranged in two hemispheres. It is suitable for a variety of purposes and was originally designed to be so. To make it as user-friendly as possible.
What does this mean for the end user? Who is in fact the end user?
D+T: It depends on who gets their hands on it, because it's really versatile. But if we were to single out a particular application, we would mention the video game industry, for example. Imagine a member of a development team going to capture the sounds of a forest with this device. The control unit in the microphone collects relevant data from all around the environment. With remote control, the data can then be sent to a computer and the game designer can freely use it as a ambient sounds for the game.
Do you have any other examples of using this microphone array?
D: A wireless conference microphone comes to mind. The versatility of the device can be beautifully described there. It picks up surround sound, but not just casually. The device can "prioritise" the speaker who is currently speaking and ignore the surrounding noise.
T: Or you can leave the microphone turned on at home, leave and come back to find out what transpired there while you were away.
Let's talk about this year's DesignBlock. How did the registration and preparation for the exhibition go?
After defending the bachelor thesis, we started to deal with the topic intensively. We came up with the first designs and decided to try to score at DesignBlock, which meant finding a sponsor, because the application for the exhibition alone costs a lot of money. In the end, we approached 3Dees, a 3D powder printing company, and they sponsored us.
T: Then all that was left to do was to prepare the stand and have something aesthetically pleasing that would impress not only with its functions but also with its appearance. And that was Danil's work. He made sure that our device was a real design highlight.
How was the exhibition itself? Tell us some details.
D: It was an interesting experience because we managed to combine functionality with design. I took care of the hardware, Tomáš took care of the software, Danil took care of the final design of the microphone and my colleague Daniela Dvornická was involved in the design of the exposition and took care of the final concept of the hanging LEDs. We were happy that visitors showed interes not only in the hardware and software, but also in the design.
T: As part of the preparation of the DesignBlok exposition, we found great facilities at UMPRUM, 3D printing of most components was provided by 3Dees, and we had the cast bells made at the Czech Technical University. We knew that we had no chance to succeed at DesignBlok without a proper design, so we didn't underestimate anything. And Danil's hard work took the whole concept to a whole new level.
It is obvious that you function as a dynamic trio or rarther, a quartet. Is that the right observation?
D: Absolutely. The most important thing we took away from the whole event was a really good feeling of interdisciplinary cooperation. After all, Tomáš and I are from CTU and Danil is from UMPRUM. We're all kind of tapping into each other's field, which means that I was trying to draw designs for 3D printing before Danil took over for me, and what I struggled with for weeks, he did in a fraction of the time. And Danil, on the other hand, is not just an artist, he's an industrial designer, so he's also close to the more technical subjects. It was just a perfect symbiosis.
T: I'm fascinated by the possibilities offered by university timetables, where you meet colleagues from different programmes and even different schools in lectures. In fact, that's exactly how Danil and I met - in joint classes. There we hit it off and I invited him to join our joint project.
Imagine that there are no obstacles - financial, material or functional. How would you like to advance with a microphone array? What is the aim?
D: But my goal was to create something universal, which is closest to the end user. We engineers know how to figure out the "driving engine" of each device, calculate everything and make it work. But if it doesn't have an attractive use case, it's never going to be used in any kind of mass way. That's why I'm so glad we had Danilo on the team.
T: Yes, he wrapped our "complex vision" in an aesthetically pleasing and user-friendly package. I also want to highlight the benefits of collaboration across disciplines - what we came up with, my colleague put into real operation. We complemented each other beautifully, and often understood each other without words, because it was clear to everyone where we were going. And this was also sensed by visitors to our stand at this year's DesignBlock. They liked both the "inside" and the "outside".
D: Within open-source, we want to publish the current (advanced) version that can be made using powder 3D printing, but also a simplified version for 3D printing on FDM 3D printers, which is essentially my creation derived in my bachelor thesis.
How were the roles in the team divided? It's clear that you complemented each other well, so I'm wondering if the tasks were consistently divided within the group, or did you work together on "whatever was needed"?
D:I served in the team as a developer of hardware components, mainly PCBs. But I am also the author of the original concept of the whole microphone. I designed the first version of the predecessor of the current microphone, both in terms of hardware and 3D printing, which was my bachelor thesis at the time. Some of the concepts from my thesis were later reflected in Danil Rekhtin's work.
T: As part of the team, I was responsible for the development of the software to operate the equipment. This enabled the first tests, which for example revealed errors in the original hardware design, which are currently being corrected.
And what about the DesignBlok exhibition? How did you divide the roles before the grand finale?
D: As far as the DesignBlok exhibition is concerned, I'm going to shyly declare myself the main executor, not of the concept, but of the actual creation. The core of the exhibition, which consisted of a suspended microphone array with ESP32 microcontrollers that "listened" to the sound in the room and 160 (!) LEDs suspended from the ceiling in a defined configuration, including the wiring, was soldered, wired and programmed by me some 90% of the time, and that took a good few days of work. I was also partly responsible for the acoustics, but Dr. Petr Honzík, who is a real expert, helped us tremendously.
T: I was also in charge of project management during the DesignBlok exhibition, where I used the knowledge I gained during my studies at SIT. In discussions about the design of the facility, I used more of my own experience in music production.
What did you use from what you learned in your degree programs to create the microphone array? Speaking for myself, I can say that it's a really unique creation in all aspects, so I'm curious how much the knowledge from different programs helped you, considering that you, David, studied Electronics and Communication, and you, Tomas, Software Engineering and Technology?
D: At Electronics and Communication they taught me the basics of hardware design, which I used in PCB design. My knowledge of C and C++ programming languages came in handy when programming microcontrollers. But what I consider essential is the basic skill of "processing large amounts of information", from which I chose what was relevant to me at the time and supplemented the rest with self-study. In my opinion, school will never prepare you for a specific role in a specific company, but it will teach you how to work with information in a great way. So if I had to sum up what the EC programme gave me, it would be a kind of "hodgepodge", from which I then chose what I needed (laughs).
T: At SIT, the student will learn to manage and implement projects in teams in addition to software development. This is a skill that I have used extensively in our team.
Do you intend to work with a proven team in the future?
D: Yes, we are an inseparable trio (laughs).
T: Definitely.