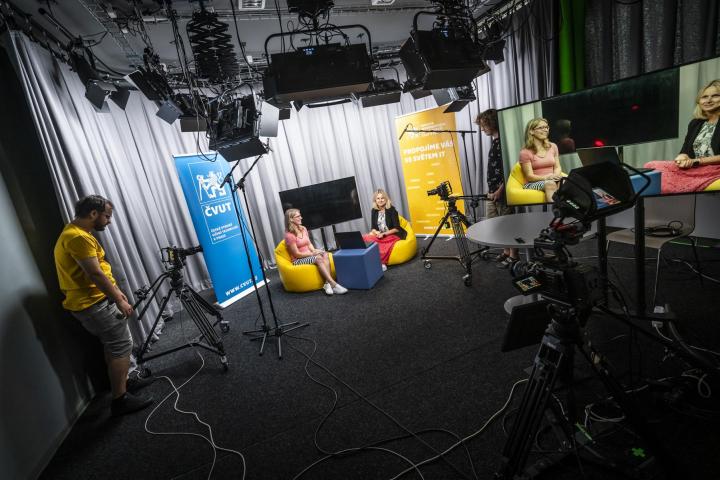 The Faculty of Information Technology of the Czech Technical University in Prague (FIT CTU) responded to the needs of online learning arising during the coronavirus pandemic and built a professional streaming and recording studio with state-of-the-art equipment on the premises of the faculty. Thanks to state-of-the-art technology, at a cost of almost CZK 4 million, it provides quality online teaching to its students, presents science and offers its services throughout the whole CTU.
At FIT CTU, they combined the technical capabilities of the IT faculty and professional experience in recording and built a modern audiovisual studio for their staff, teachers and students. The lecturers stream lectures for students here, for which they also make a recording from the stream, interviews with scientists are created here, and every month an episode of the faculty podcast "Ones and Zeros" is born behind the microphone.
"The technically advanced quality of the resulting recording is ensured mainly by professional lighting, high-quality wireless microphones, broadcast and film cameras with high resolution 4K and 12K," says the studio manager Ing. Jakub Jančička, and adds: "The studio also has a green background, which can be used for keying - i.e. computer replacement of the background behind the speaker. All of this together allows recording in first-class quality, which is crucial for subsequent post-production."
Experts from the recording studio will completely prepare the interested party for the recording of audio and video, perform the production itself and the subsequent editing or sound editing of the recorded material. Thus, the interested party will receive a complete product in professional quality.
"We equipped the studio based on years of experience. We purchased high-quality technical equipment for the studio because we did not want to settle for the usual technology used in teaching," says Ing. Jančička. "To achieve the desired lighting, the light panels can be moved using moving rails, and the intensity and colour temperature of the light can be controlled remotely. Wireless audio sets, professional microphones and boom microphones are available in the studio. The wireless headset is suitable for back-to-back communication from the director to the speaker during a live broadcast," adds Ing. Jančička.
An integral part of the studio is the production room, which is located in an adjacent room. The production room allows you to stream shows to internet portals and is used to process recorded material. It is equipped with an editing console that allows switching between eight inputs, supports image correction, a variety of transition effects and the insertion of graphics into the image. Due to the studio's partial mobility, it is possible to use its equipment to stream video inputs that will be produced in other rooms around the faculty to YouTube, MS Stream or other platforms.