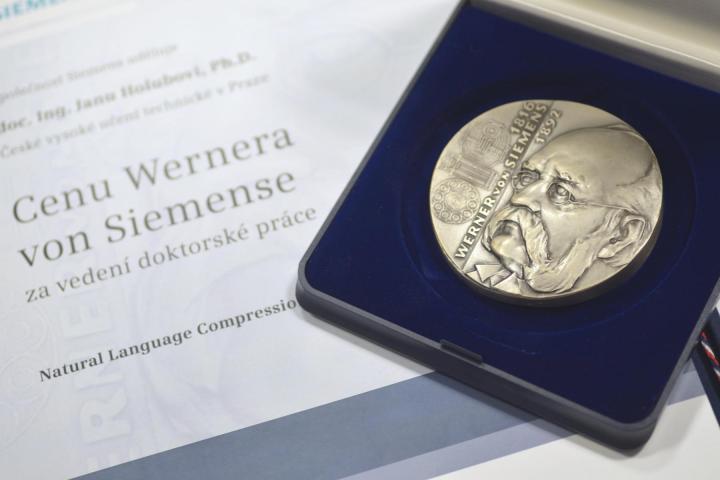 The twenty-fourth edition of the Werner von Siemens Prize for engineering, science and medicine students and young scientists has been announced. Candidates can apply via the website until 30 November, 2021. The financial rewards, which Siemens has distributed to 410 students, scientists and teachers over the past 23 years, amount to 13.4 million crowns. This year, 900,000 crowns will be distributed in eight categories, with the best thesis and dissertation category awarded to thesis supervisors along with students.
The Werner von Siemens Prize is organised by Siemens Czech Republic together with important representatives of universities and the Academy of Sciences of the Czech Republic, who are also the guarantors of the individual categories and participate in the evaluation of the works. The Ministry of Education, Youth and Sports of the Czech Republic and the Ministry of Industry and Trade of the Czech Republic provide patronage for the awards. With its scope, the amount of financial rewards and history, the Werner von Siemens Prize is one of the most important independent initiatives of this kind in the Czech Republic.
The announced categories are:
1. Most significant basic research result (individual or research team)
2. Best teaching staff member
3. Best thesis (first three places + thesis supervisor)
4. Best dissertation (first three places + thesis supervisor)
5. Award for overcoming barriers to study (student is nominated from among academic staff within the university from undergraduate, masters and doctoral studies)
6. Special Award for Excellence in Women's Scholarship
7. Best graduate thesis (thesis/dissertation) dealing with Industry 4.0 concepts
8. Best graduate thesis (master's/dissertation) dealing with smart infrastructure and energy
The twenty-fourth edition of the Werner Siemens Prize will be held with the support of Siemens Advanta, Siemens Energy and Siemens Mobility, which have become patrons of the thematic categories.
The general public can also participate in the nominations - candidates and their works can be nominated via the website and if the recommended candidate wins, the nominator will receive a bonus of CZK 10,000.
More information can be found here.
Photo, courtesy of: Siemens
Contact person: Lenka Hlavatá