On the occasion of an independent debate by important industry figures - the Barometer of Czech Industry, which will take place on 10 June, the National Center for Industry 4.0 has prepared an analysis of the same name. The analysis is based on data obtained during 327 interviews with key representatives of selected companies in Czech industry. The survey was conducted in March 2021. The full text of the analysis will be published on 10 June
After last year's decline of 8%, the directors of industrial companies expect growth in their sales this year, by an average of 7.5%. However, the development depends on many factors, both domestic and global. The company solves the growth of costs, especially the increase in the price of materials and commodities, by increasing the prices of their products (by 6% on average) and by looking for reserves in production. In this way, they manage to maintain their profitability (confirmed by 53% of companies), or increase it (28% of companies). Deteriorated solvency of customers is beginning to be reflected in the problems of companies with cash flow. 
The vast majority of directors (91%) expect their sales to grow this year. On average, growth of 7.5% is forecast, with directors of large companies reporting on average almost two percentage points higher than directors of small and medium-sized enterprises (growth 8.83 vs. 6.53%). 
"After the financial crisis, it took the industry about six years to reach pre-crisis levels. This time he did it in one year. Confidence in industry has been increasing in recent months, with less uncertainty about new orders. Thanks to this, companies will lay off less, and also cut investments less, "comments David Navrátil, the chief economist of Česká spořitelna, a.s. 
The development of Czech industry will depend on many influences. On the development of the pandemic situation in our country and abroad. The speed of recovery of economies from the crisis, the key will be especially the development in Germany. Renewal and / or restructuring of supplier-customer relationships. Pricing policy of foreign companies, especially foreign customers. Prices and availability of commodities and materials. Energy prices. The situation in logistics, especially the speed of deliveries from Asia. The financial situation both on a global scale (governments poured large amounts of money into economies, which will cause inflationary pressures) and at the domestic level (payment morale of companies, government budget and tax policy, conditions of subsidies, etc.). Sufficient quality employees, investments, the ability of companies to use innovation and digital technologies to increase added value, gain a better position in foreign markets, increase efficiency and flexibility of their production. On green policy, development in the automotive industry, development of strategic infrastructure, progress in the digitization of the state, etc. "We are a small open economy and a large number of companies are unfortunately still 'committed' in supply chains. The development of Czech industry is therefore extremely dependent on external influences, and if most of them are currently unstable, it also affects the security of Czech companies, " summarizes Alena Burešová, senior manager for industry, National Industry Center 4.0, and adds: "The path to greater independence and prosperity leads through innovative and entrepreneurial thinking - ie to drag the company to create more added value and global competitiveness, break free from dependence on a limited number of customers, digitize processes and thus enable more flexible and efficient management, increase new technologies; its ability to respond to change and customer demand. " 
Jiří Jirkovský, CEO, VDT Technology a.s., also mentions factors that could threaten growth: "A revival of industrial production can be expected, however, I consider it important to state some factors on which the growth rate will depend. First and foremost, these will be resources, both human on a domestic scale and, for example, raw materials and technology on a global scale - we are already registering, for example, a reduction in production due to a lack of electronic components. Another factor is the development of information infrastructure, where in particular the transition from pilot 5G networks to practical deployment will play a key role. In a global framework, it is also necessary to mention the accuracy and reliability of the logistics chain to which robust IoT platforms contribute today. "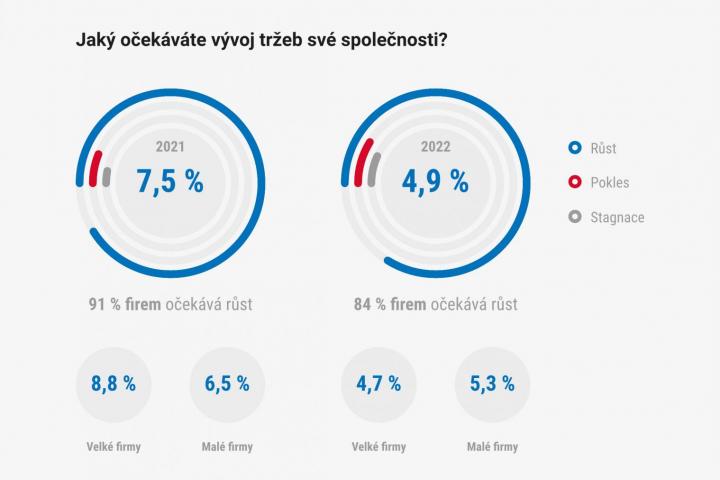 Petr Karásek, vice president of the Czech Association of Interim Management, emphasizes the need to reduce dependence on complex global supply chains: "Strong marketing and sales, own final product or service or at least components - i.e. own development and innovation, independence from only one customer are synonymous with greater independence. etc. Unfortunately, for companies that are not mentally sufficiently prepared for strategic thinking, this will probably mean "strengthening" the position of subcontractors of suppliers of other subcontractors, who have everything dictated by their business partners contractually and with considerable sanctions and whose room for maneuver will again and narrower. " 
According to the directors' forecasts, exports of industrial products should increase by 6.42% this year. It should be easier for large companies to export this year than for small and medium-sized companies. Large companies expect their export sales to grow by 8.3%, while small and medium-sized enterprises predict growth in their exports by only half (4.8%). For 2022, this big difference is blurred. Exports of industrial companies should increase by another 4.45 percent and there are no significant differences between large and small companies. 
Vladimír Dlouhý, President of the Czech Chamber of Commerce, draws attention to the facts that may endanger the export of industrial products "Another outlook is threatened by even more factors than before. In addition to the green challenges, another possible wave of the pandemic and the associated lower foreign demand, the tense foreign policy situation or protectionist tendencies in the world are also a negative risk. In the event of the fulfillment, albeit only of some of these risks, our exports, which are based primarily on industry, would be most affected. "Jakub Lichnovský, partner of PRK Partners s.r.o. The law firm advises: "When entering a foreign market, I perceive the lack of knowledge of the local legal environment and local business conditions as a problem, which is especially true for countries that protect their own market from the entry of foreign competition. We consider the focus on products and services with high added value and entry into foreign markets with knowledge of the local legal and business environment to be essential for increasing the competitiveness of Czech companies abroad. "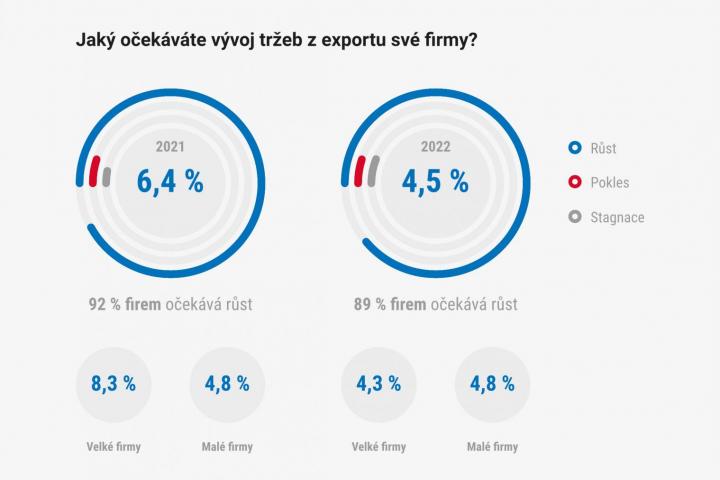 Rising prices of commodities and materials have a negative impact on the economic results of industrial companies (confirmed by 78% of directors). Companies are trying to outweigh this negative trend by negotiating a higher price with their customers or by looking for reserves in production efficiency. In the longer term, of course, there is an offer to modify production processes or invest in new technologies that reduce material intensity and increase production flexibility. 
"In many cases, the price of commodities is rising, and so are energy prices. This does not help companies in the current situation. In some areas, even companies are talking about a cost shock. In times of decline, companies can use the spare capacity of some other suppliers. Firms can also reduce the impact of higher input prices on profitability by streamlining their production and using new technologies. Thanks to them, for example, they can reduce the scrap rate of production and use the material as efficiently as possible. Of course, such a modernization of production requires large investments, "explains Jaroslav Hanák, President of the Confederation of Industry and Transport of the Czech Republic. The situation in the segment of machine tools and forming machines is described by Oldřich Paclík, Director of the Association of Engineering Technology: "It is obvious that this situation significantly affected the economic results of most companies in our field. The pass-through of these costs into product prices can be a problem for many manufacturers, especially standard machines. It is in this difficult situation that the real competitiveness of our manufacturing companies will be reflected. "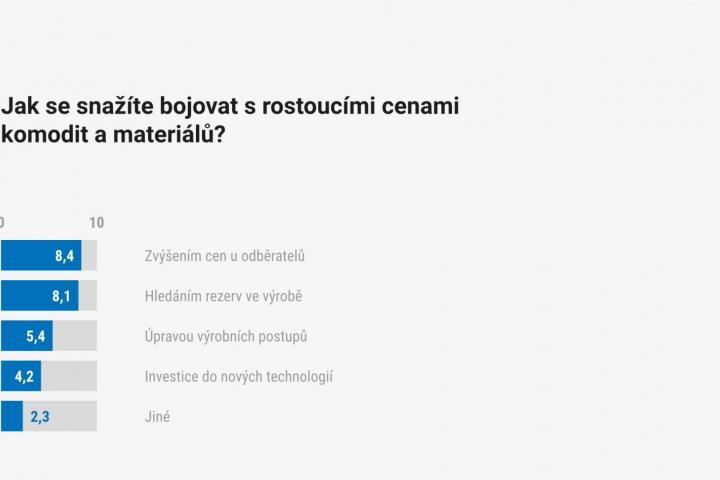 This year, the price of industrial production will rise. Half of the companies will increase in price (50%), on average by 6%. Two-fifths (42%) of their prices will not increase and only 8% will be forced to go down with prices (on average by 4%). Small and medium-sized companies in particular will have to reduce their prices (15% of them).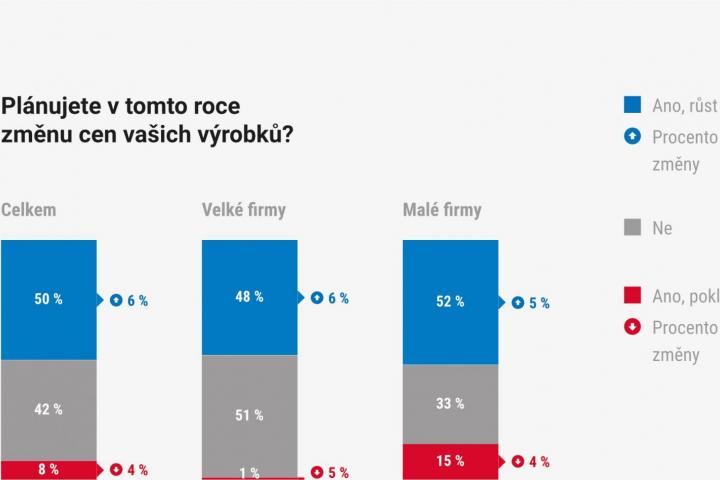 The result of the effects on the economic situation of industrial companies is a predominant stagnation of their profitability (confirmed by 53% of directors). A quarter of companies (28%) will improve in this parameter compared to last year and a fifth of companies (19%) will have to deal with a decline in their profitability. It is very interesting to compare this indicator in the case of large and small companies - small and medium-sized enterprises will do better - perhaps thanks to a greater degree of flexibility - in this respect. 
The situation of covid-19 and the drop in last year's sales by 8% was logically reflected in the deteriorating solvency of some companies. The majority of directors of industrial companies (65%) noted a deterioration in the solvency of their customers. Small companies in particular have to wait longer to get their invoices paid (confirmed by 80% of directors), large companies are better off due to their position. 
"I must admit that with the advent of the pandemic, my first contribution to the President of the Chamber of Commerce was to address the obligations of invoicing. I am thinking of the legal obligation to pay invoices, especially larger companies would be obliged to pay invoices to smaller companies. Unfortunately, this topic has generally been and is of no interest to this president. However, we are seriously bothered by us, who deal with outstanding receivables on a daily basis, "complains Petr Bilavčík Director, PRIMA BILAVČÍK, s. r. o. "The suppliers have unilaterally abandoned the agreed terms, shortened their maturities or switched to advance payments using the situation with covid as an excuse. The scissors widened and for two months they were tense in terms of cash flow before the situation was stabilized and brought back to normal. Today we are dealing with who behaved to us and what the next cooperation with sinners will be like, "describes Tomáš Prášil, member of the Board of Directors for Production, Technology and Purchasing and Director of Project Management, MOTOR JIKOV Group a.s.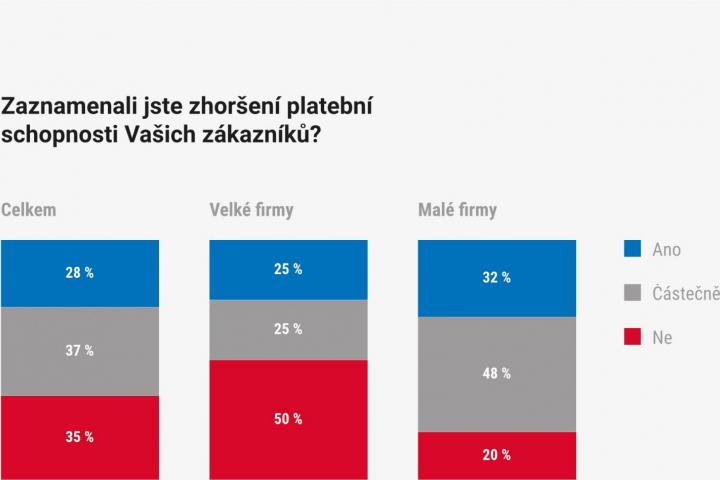 Most industrial companies (62%) do not have problems with cash flow, however, many companies do not provide an answer yet. One third of companies (31%) already have partial problems, which do not threaten their economic activity. Currently, only 7% of companies have a significant impact on their economic stability. 
"We have partial cash flow problems, the biggest problem is the increase in costs, especially the prices of raw materials for the production of foundry products," says Jan Kočvara, Member of the Board of Directors, Sales Director, KOVOSVIT MAS Foundry, a.s. "We do not yet have a problem with cash flow due to the immediate reaction after the pandemic in March 2020. However, we are convinced that in the current situation, the problems with lack of free funds in industry will worsen for some time to come," says Lukáš Novák. Director, EMUGE-FRANKEN servisni centrum, s.r.o. 
Further information and a complete analysis can be found in the Barometer of Czech Industry, which will be presented by the National Center for Industry 4.0 on 10 June 10 2021 in the online discussion program of the same name. Deputy Prime Minister Karel Havlíček, Minister of Finance of the Czech Republic Alena Schillerová, Minister of Foreign Affairs of the Czech Republic Jakub Kulhánek, President of the Confederation of Industry and Transport Jaroslav Hanák, President of the Chamber of Commerce Vladimír Dlouhý or Scientific Director of CIIRC CTU prof. Vladimir Marik. Journalists are cordially invited, registration by 9 June at alena.buresova@cvut.cz.